Would You Use A Numberless Scale?
Evelyn Gosnell, head of product development and behavioral science at Shapa, explains the science behind the new, numberless scale.
Heading out the door? Read this article on the new Outside+ app available now on iOS devices for members! Download the app.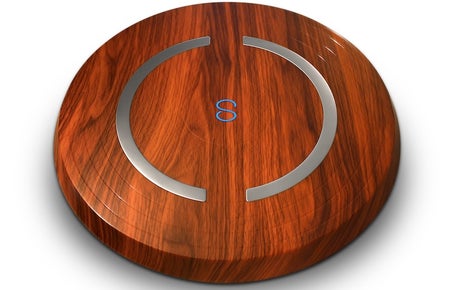 Shapa is a scale without numbers–but Evelyn Gosnell, head of the company's product development and behavioral science, will tell you it's much more than a scale. In lieu of showing your weight in numbers, Shapa lights up in a color corresponding with how your weight is trending relative to the past few weeks, from gray to green to blue. "The real offering is the program that comes with the scale," Gosnell said–and the program is extensive.
Out Of The Box
Like most everything we consume these days, Shapa comes with an app. The scale's listed price is $130, with an additional $10 per month for app usage. Before buying, you first needs to complete an assessment so Shapa can get to know your personality, habits and living environments. Those interested will also need to step on the scale twice a day for the first two weeks after purchase, so that Shapa can determine what your normal weight range is. "Shapa needs to calibrate where you are currently," Gosnell explained. "There is no 'normal' range for everyone, and our bodies are all different and can fluctuate three to four pounds in a day."
How It Works
Once your weight has been properly calibrated, the app will send you reminders to step on the scale at least once a day to maintain accuracy. The Shapa team decided on the color green for maintaining a certain weight. "We don't celebrate staying the same, but if we simply maintained our weight, that would be a huge victory," Gosnell said.
If you start to wander outside of your weight range, the color will change to light gray and then dark gray. Teal is the color you'll see when you lose weight, and blue shows when you lose even more.
Your Mission–Should You Choose To Accept It
From the first day, you will receive personalized "missions" on the Shapa app. Your mission of the day may be something like, "Park further away from the front door of your office building," or, "Get off the train one stop father away and walk." Of course, Shapa has to first know that you commute, how you commute and if you even have a job in the first place. "We are designing our program for real humans, real people without a ton of self control," Gosnell said. "If you're not the primary person who grocery shops, we're not sending you missions to buy more veggies."
Does It Work?
According to a 12-week pilot study with 645 participants from a company with a large obesity population, it was discovered that those that used Shapa (app and all) lost on average 0.61 percent of their weight per month (for a 200-pound person, that's 1.2 pounds for the first month), while the group that used a traditional scale gained 0.91 percent. "That's what usually happens when people diet," Gosnell said. "They gain weight, which is why they need an entire program and not just a scale. That's what Shapa is."
Can You Ever See Your Weight In Numbers?
The short answer is yes. Intentionally buried in a section designated for "progress review" with things such as weigh-ins and mission history, there is an option to see your weight history. It gives an average of several weigh-ins (something like the first 10 and last 10) "because we don't want to count for any one day," Gosnell said. You can also easily opt out of having to see the numbers at all.
Shapa is leading the way in new weight-loss programs where the number on the scale isn't the point. "Stepping on a scale first thing in the morning is correlated with weight loss," Gosnell said. "The whole rest of your day changes when you have that reminder or commitment to yourself."
Related:
Why My Scale Is Challenging My Patience
One Fitness Competitor Has People Talking About The Scale