This Company Is Reinventing Thigh Chafe Prevention
No more chafe cream made and marketed for athletes only; these products are for all women who want solutions to chub rub and boob sweat.
Heading out the door? Read this article on the new Outside+ app available now on iOS devices for members! Download the app.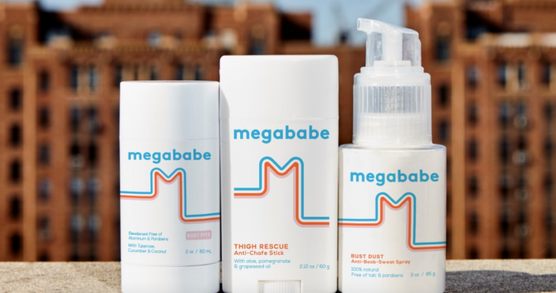 Most runners—especially distance runners—have experienced thigh chafe at least once. The painful, irritating and sometimes embarrassing issue of thigh chafe. The truth is, though, it isn't something that affects just runners. Women are susceptible no matter the activity and one company is finally doing something about it.
Megababe is making chafe prevention products for all women—not just athletes—and is reinventing the way we treat the problem. Body Glide has long been marketed to only athlete—also can someone tell me why we need Body Glide For Her and we can't all just use the same product?!—and baby powder just won't cut it. Now, thanks to Megababe, your thighs and chest are covered.
RELATED: The 12 Stages Of Chafing For Runners
The second I heard about Megababe, I bought both the Thigh Rescue and Bust Dust (they were not provided for free and I was not asked for a review). Created by Katie Sturino, the woman behind The 12ish Style, these two products were created to prevent the pain of 'chub rub' and embarrassment of boob sweat. Living in Texas and suffering from peak temperatures while in my second trimester, well, I immediately knew this was something I needed to try.
The Thigh Rescue arrives looking like deodorant (and arrived in a package that was hand-packed by Sturino's parents who were helping her with all of the shipping out of her New York City apartment). The size is perfect and unlike Body Glide, it only took one swipe for my thighs to feel covered. As someone who has become much more conscious about what I put on my skin—especially while growing a child—I appreciate the natural ingredients, including aloe, grapeseed oil and lime oil that make up the product. Also? It smells so good.
The Bust Dust is something that I have never seen before and seriously can soak up sweat. In fact, right now it is on backorder because it sold out so quickly. This powder—complete with lavender and chamomile—gets sprayed on and around your breasts or in your bra and keeps boob sweat at bay. It's kind of a miracle. Without the sweat there is no need for Body Glide all over your boobs, because the moisture isn't there to cause chafing in the first place.
RELATED: The Science Of Sweat And How To Control It
A plus-size woman herself, Sturino wasn't able to find products to spare pain and embarrassment so she decided to do something about it. As she told Refinery29:
"Believe me, I've looked everywhere for a cool cure to thigh chafing that didn't come in cheesy packaging or smell like shit, and I couldn't find it," she says. "I literally had to create it myself. This line just gets to the point and actually looks cool, too."
Up next for Megababe is deodorant, which is coming soon. Until then you can get your hands on this perfect, everyday solution to thigh chafe and boob sweat (and I fully endorse waiting on that backorder—it is worth it).