Making Your Race Schedule Doesn't Have To Be Hard
If you're still planning out this year's race schedule, Eat Pray Run DC shares how she goes about the process to help inspire you.
Heading out the door? Read this article on the new Outside+ app available now on iOS devices for members! Download the app.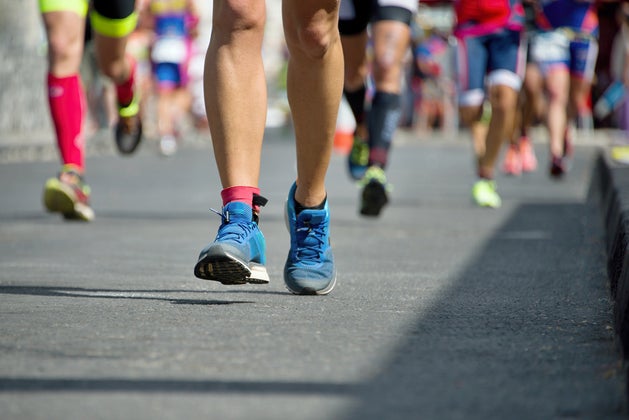 Making my race schedule is one of my favorite things to do at the start of a new year. I love planning out my race schedule and since I just finished making it, I thought I'd talk through the process.
Choose Your Goal Race
I always start by picking out what my goal races are going to be for the year. I've shared previously about setting race goals that aren't about a PR, but I do usually shoot for a couple of PRs a year. The past two years, I've been on a schedule of two big goal races: one in the spring (a half) and one in the fall (a full). So, step one involves choosing and getting registered for those big goal races. I like to then build my race schedule around my goals.
I chose my goal half for this spring because I wanted to run a local race. I'm doing a lot of traveling this fall and needed a goal race that didn't involve travel. I found a fairly flat, rails-to-trails race that is happening at the end of March and signed up.
My choice for my goal full marathon was dictated by chance; I entered into the Berlin Marathon lottery last fall and once I heard the good news that I was accepted, my fall goal race was set! Berlin will take place in late September.
Fill In The Rest Of The Year
So after having both my anchor races set for the year, I started filling in my calendar with other races. Last year, I had to defer the Richmond Marathon because of a wedding, so that was already on my calendar for this November. I received entry into the Cherry Blossom Ten Miler in April, which will be perfect post-half marathon to keep some speed in my legs. I also will be running a few shorter races in between March and September just for fun and for some speed work.
I really like anchoring my race schedule with a couple of big goals and then filling it in with smaller races that I run stress-free for fun. I find that this keeps me motivated and running, even with I'm in my off-season.
How do you go about creating your race schedule for the year? Share with us at @WomensRunning and @EatPrayRunDC.