10 Ways To Use Peanut Butter Powder—Yes It's A Thing
Pack in a smoothie or even a tomato soup.
Heading out the door? Read this article on the new Outside+ app available now on iOS devices for members! Download the app.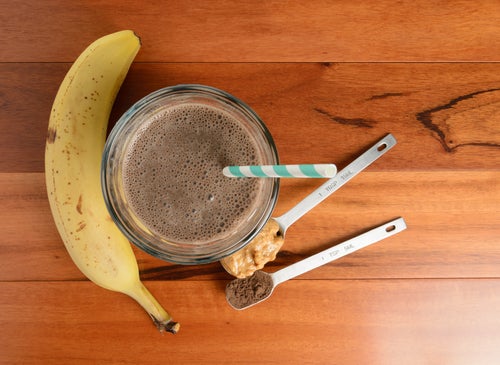 How To Use Peanut Butter Powder
Once only found at specialty stores, peanut butter powder has now gone mainstream. It's made pressing the oil and fat out of peanuts, so it naturally contains one-quarter the calories of regular old peanut butter. And for just 50 calories, you will get a whopping 6 grams of protein. In other words, peanut butter powder is a must-try for any PB-loving runner that is watching their waistline. If you haven't jumped on the powdered peanut butter bandwagon yet, these 10 ways to use it will convince you to pick some up immediately.
Smoothie
Unfortunately, everyone's favorite frozen drink can often be a hidden calorie bomb, especially when it contains scoops of peanut butter. To enjoy a protein-filled smoothie without all the added calories, add a tablespoon of powdered peanut butter.
Chocolate Bark
Give your favorite chocolate bark recipe a boost with the addition of 1 tablespoon of peanut butter powder to the melted chocolate.
Hot Chocolate
Mix 1 tablespoon of peanut butter powder to the any dry hot cocoa mixture. It will feel like you are drinking a Reese's peanut butter cup.
Soup
Stir peanut butter powder into your favorite tomato-based soup. The end result is savory, nutty, comforting and protein rich.
Protein bars
When making protein bars at home, sub in peanut butter powder. Using a 2:1 ratio of peanut butter powder to water, reconstitute the peanut butter powder and use in place of peanut butter.
Peanut Butter Cups
Some might say that chocolate and peanut butter is the best combination around, but a traditional peanut butter cup is a once in a while treat. Make homemade peanut butter cups a little lighter by using reconstituted peanut butter for the filling.
Marinade
Making a homemade Thai marinade or peanut dipping sauce? Just rehydrate peanut butter powder (as described under protein bars) and sub in place of peanut butter.
Salad dressing
Use peanut butter powder in homemade salad dressings to create the perfect homemade Asian salad.
Granola
Making homemade granola is easy—it's usually a combination of oats, spices and sweetener. Throw in a scoop of peanut butter powder with your favorite spices for a peanut buttery granola.
Chia pudding
Combine chia seeds with your favorite kind of milk and a scoop of peanut butter powder and refrigerate overnight for a delightfully peanut-buttery breakfast treat. You can also use oats to make overnight oats!