5 Things To Do When You Just Can't Get Out Of Bed
These are all things you can do while getting an extra few minutes in bed, except instead of snoozing, you are starting your day off right.
Heading out the door? Read this article on the new Outside+ app available now on iOS devices for members! Download the app.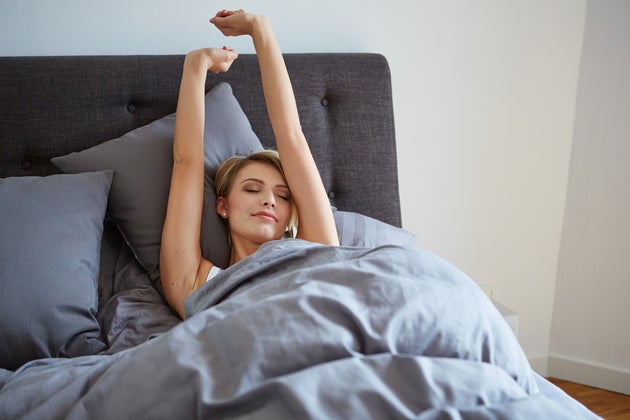 One of my favorite parts of every day is when I turn off my alarm, grab my dogs and cuddle with them in bed for as long as I can possibly get away with. The thing is, that usually involves me drifting in and out of sleep, leaving me feeling groggy and stressed about getting my morning started. Productivity is not a thing those mornings.
There are, however, a few things you can do to get your morning started without having to actually get out of bed. Yes—you read that right!
All of this is assuming you are an afternoon or evening fitness fiend and used to getting things done at night—if you want to learn how to get out of bed and get your early morning run done, this is not for you. But if you want to make those blissful extra moments in bed a bit more meaningful, read on.
Meditate (With An App)
The with an app part is key to this…otherwise you just may fall back asleep. Before you start the day, take some time to clear your head and get focused on what you want it to look like by meditating. Using an app will keep your mind focused on the guided task, versus just saying you're meditating but snoozing instead. You'll get an extra fifteen minutes and bed and will have purposefully started your day.
Write In A Journal
Journaling is a great way to get down any lingering thoughts from the day before—or record any interesting dreams you may have had. Another great idea is to start a gratitude journal. Start your day by writing down five things you are grateful for. That good feeling will carry on through all of your activities—and if you feel yourself getting down, you have a great 'book' to read to brighten up your spirits.
Drink Water/Take Vitamins
A great way to start your day with a healthy tone is to keep a big glass of water next to your bed. When you wake up, sit up and start drinking! You can use this time to get in a ritual of taking any vitamins you need, as well. You will start your day refreshed and hydrated—just make sure you keep drinking water throughout the day, too!
Stretch
So, not all stretching can be done in bed, but you can get a few stretches out of the way to get your blood flowing—and then get up and do the rest. Take some time to stretch your arms above your head, roll your neck in circles and stretch your arms across your chest. Then, pull your legs into the butterfly position to stretch those. Breathe deeply through each and then get up and stretch out those legs to get moving.
Turn On The Radio
You get bonus points if you can set your alarm clock to turn music on when you wake up! You can either have some energizing tunes playing that just make you want to dance your way out of bed, or, if you prefer, can have NPR or a similar news station come on so you can start your day off informed. No matter what you do, don't fall into the trap of watching music videos or turning your TV on to watch the news—you'll find yourself sitting in bed even longer!