This Device Smells Spoiled Food Better Than Your Nose Can
This will keep you safe while saving you money.
Heading out the door? Read this article on the new Outside+ app available now on iOS devices for members! Download the app.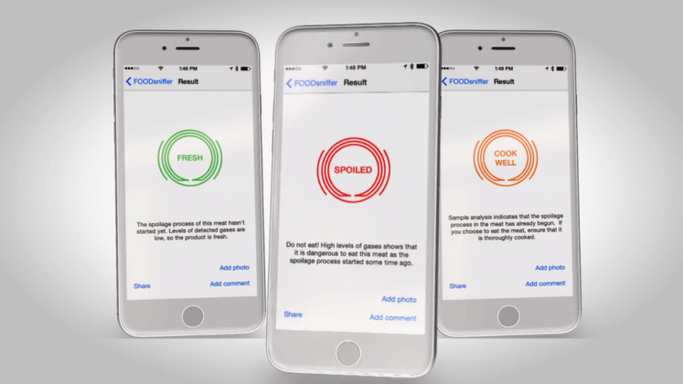 According to the United States Department of Agriculture (USDA) Economic Research Service, the average American family of four throws away more than $2,000 worth of food every year because it spoils before it can be eaten. It is important to know that sometimes meats can be odorless, yet still be spoiled.
In the time it takes to get your meat and fish home from the grocery store, expiration times start to shorten because of the temperatures that your food is exposed to in the car. Storing your food properly as soon as you arrive home is important, including handling and cooking methods.
The FOODsniffer is a handheld device that checks beef, poultry, pork or fish—or, to be exact, the air around it—to determine if it is fresh, if you should cook it well, or if it is spoiled. The device partners with an app (available for both iPhone and Android). When starting it up, you select the type of meat you are checking and let the FOODsniffer check the organic compounds emitted before displaying the results directly on the app in your phone.
The USDA Food Safety and Inspection Service notes that changes in the color of meat does not mean it is spoiled, so just relying on visual cues is not enough to know whether it is safe to eat. The same is when it is frozen. "Color changes, while meat and poultry are frozen, occur just as they do in the refrigerator," reports state. "Fading and darkening, for example, do not affect their safety."
It is important to note that the FOODsniffer does not indicate whether the beef, poultry, pork or fish has bacteria, such as salmonella, e. coli and more, so understanding proper handling procedures is important to reduce that risk. FOODsniffer was created in part to help save you money—meats, fish and more are often the most expensive items purchased—giving you a way to know if your food is still safe to eat and just requires extra cooking time.
Do you love this app? Check out some others:
Two Powerful Apps Just Combined To Make The Grandest Of Fitness Apps