Our Most Trusted Running Socks for Women
They're a runners most underrated partner in crime. Here are 15 we can fully vouch for.
Heading out the door? Read this article on the new Outside+ app available now on iOS devices for members! Download the app.
Socks are quite possibly the most neglected article of clothing—well, until half the pair goes missing in the dryer. They are unappreciated and, when it comes to activewear, probably one of the least thought about and considered. After all, a sock is a sock is a sock, right?
Wrong. Runners need to pay extra special attention to the socks they slip on to their feet. As you rack up those miles, they seal and protect your feet from all that wear and tear.
RELATED: 
What to Look For in a Running Sock
So what are the important factors when it comes to running socks? The first thing to consider is material. Since our toes tend to get sweaty, moisture-wicking qualities and breathability are essential. Look for a blend of natural fibers and synthetics, and stay away from cotton as it tends to hold moisture in.
Another area to think about when it comes to socks is construction. Certain brands have specified cushion support like unique weaving at your arch and toes. 
When it comes to length, that's a personal preference. But your choice of running location and weather or trail conditions should affect your choice: During colder months or when you're hitting muddy trails, a taller knee length can provide extra coverage. For warmer months, you might prefer something shorter and less restrictive.
Last, you'll want to consider whether the sock will compress your foot and legs. Personal preference is also paramount here. Some people find any amount of compression makes them too uncomfortable and warm while running. Others like to wear compression socks while running to increase circulation in their feet, calves, and lower-leg muscles. Compression socks can also be worn post-run to aid recovery. But even some ankle socks can have compression qualities and it's something to pay attention to when you're purchasing socks to run in.
Best Overall Socks for Runners
Before you slip on your sneakers, check out this list of socks we love to sweat in.
Balega Support Socks | $18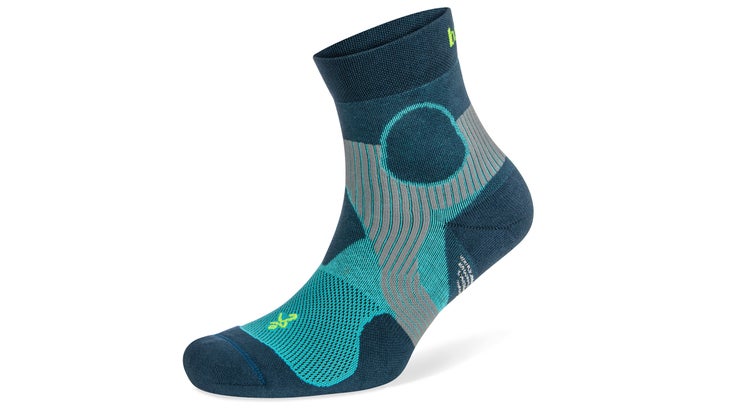 These will cradle the feet without compressing or restricting, enhancing comfort during any activity. Expecting mothers are approving of these as they help with their uncomfortable, swollen feet too.
---
Injinji Ultra Run Mini Crew | $18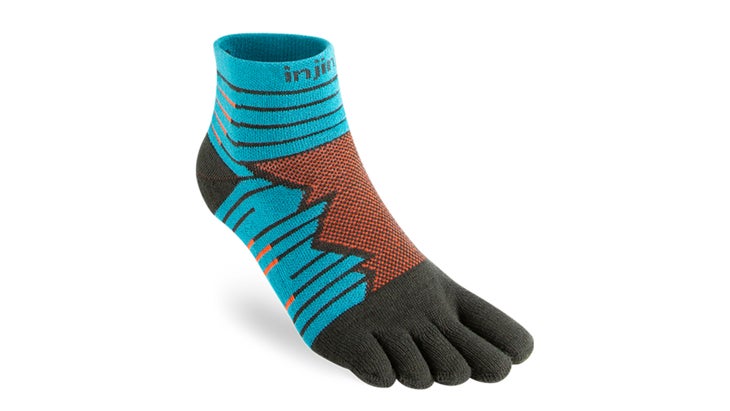 Five-toe constructions offer you natural function and freedom of your foot. Their new sock style delivers the support runners love with a snug fit. Mini crew length hits just below the ankle.
---
Icebreaker Run + Ultralight Mini | $18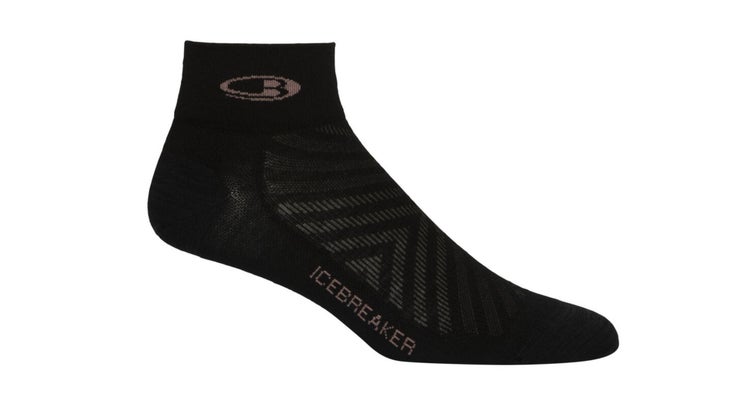 Technical merino wool makes these durable, lightweight, and stink-free. Won't budge the entire length of your long or trail run. No-show height for those who prefer a clean look when running.
---
Asics Quick Lyte Plus | $15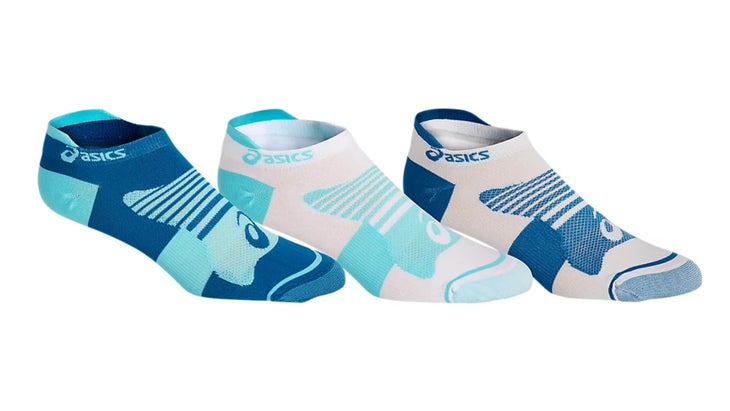 Excellent coverage with breathability, this ankle sock has targeted cushioning in all the right places. Comes in a set of three, so you'll always have a pair handy.
---
Smartwool PhD Pro Endurance Crew Sock | $25.95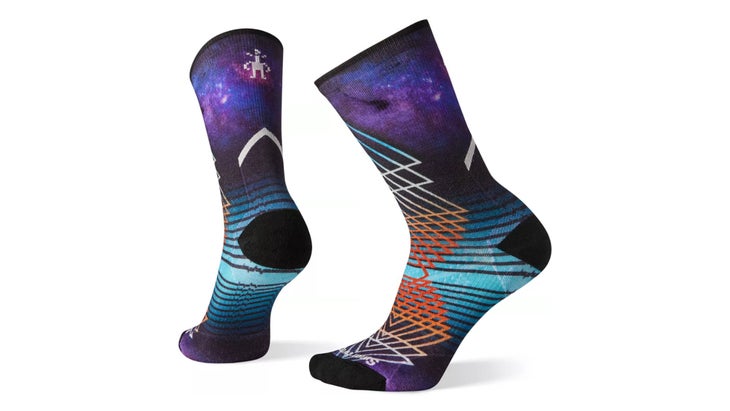 Ultrarunner approved, so you know this will last for miles and miles, or 42 to be exact. Featuring the brand's top-notch technology: Indestructawool™ technology for durability, the virtually Seamless™ toe for comfort, and elite fit with their 4 Degree™design.
---
Brooks Carbonite Socks | $18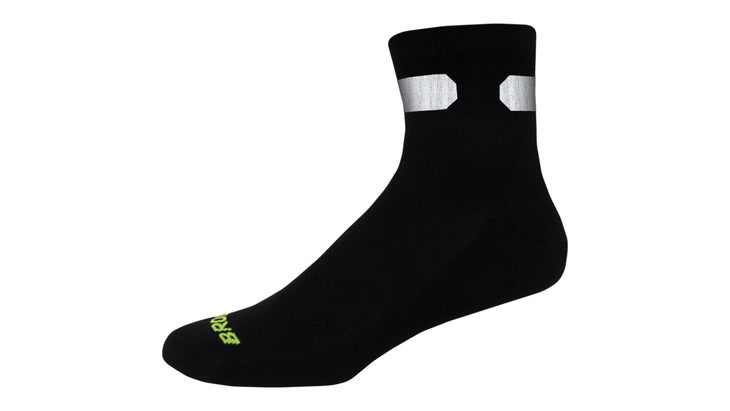 Anyone who takes their runs in low-light conditions knows the importance of visibility at different points of the body. With a length that extends just past the ankles, these are made with a sweat-wicking dry layer and have 3M Reflective strips at the top.
RELATED: The Best Reflective Gear for Running When It's Dark
---
Swiftwick Aspire Four Socks | $18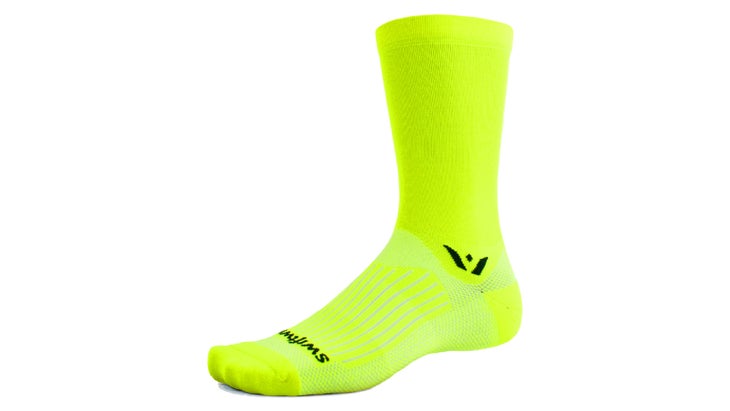 From the road to the trail, this compression sock supports muscles and decreases fatigue. The thin silhouette and unobtrusive feel, especially on long and hot sweaty runs, will make you want to stay out longer and run faster.
---
Rnnr Marathon Socks | $18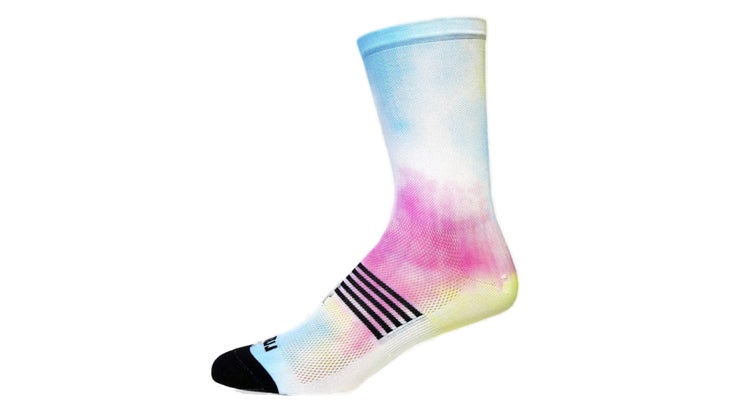 These socks have a trendy pattern and length, but they can withstand your grittiest runs: We tested them through mud, water, and sand. A cushioned footbed with arch support and no-slip technology keeps your feet secure and blister-free.
---
Smartwool Women's PhD Run Ultra Light Micro Socks | $16.95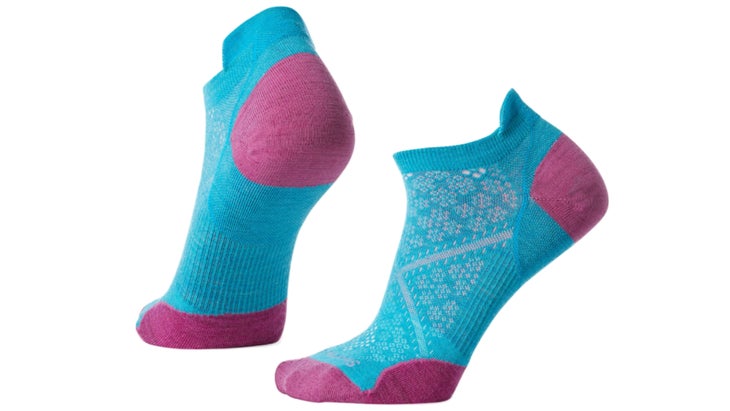 For runners who like barely there socks, these micro anklets are now new and improved. The technology built into the wool makes them more durable, reducing toe tear.
---
Comrad Knee-High Compression Socks | $29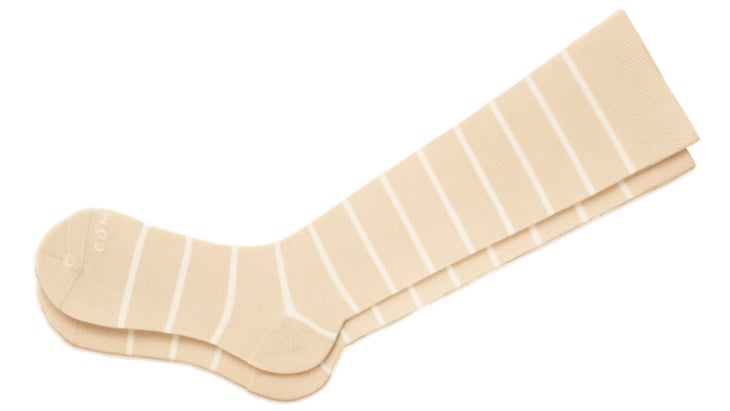 For those recovery days, these knee-high, medical-grade compression socks can help increase blood flow and reduce soreness so you can bounce back even stronger in your next workout.
---
Bombas Women's Performance Running Ankle Socks | $16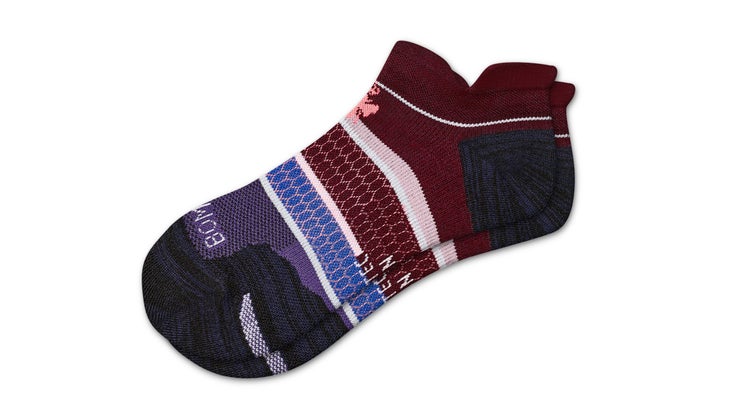 Is this a fan favorite because of the Hex Tec construction of strategic zone cushioning? Or is it the lightweight composition built for runners? Or is it that with each pair you purchase, they donate a pair to someone in need? We say all three.
RELATED: Should I Wear Compression Socks While Traveling?
---
Best Running Socks for Cold Weather
Dressing for the cold is a delicate balance, especially for your feet, as they should be insulated and warm, without overheating. Sweaty feet without ventilation is a recipe for even colder, wet feet. These are the socks we recommend to keep you warm and dry on the run.
Saucony Ventilator No Show Tab Sock | $10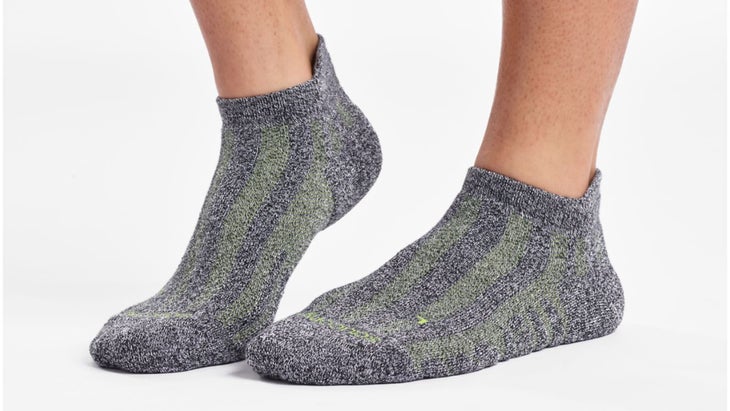 Mapped ventilation technology combines with ultra-wicking yarn allowing you free to go the distance. Also, in the construction, a high-density targeted cushion that will absorb impact. Comfy enough to wear around the house too.
---
Smartwool Athlete Edition Ski Race Over the Calf Socks | $31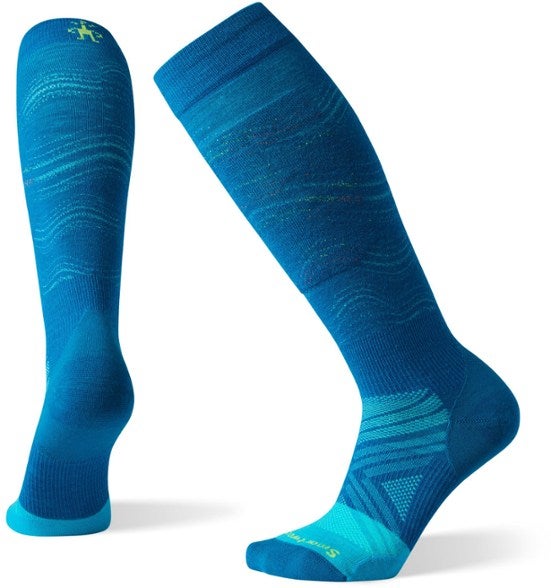 For really cold (read: snow and ice) runs, why not go with a sock designed for winter sports? Made from a blend of Merino wool and nylon, these Smartwool ski socks offer the perfect balance between warmth, comfort, and performance.
---
Feetures Merino 10 Cushion Mini Crew | $22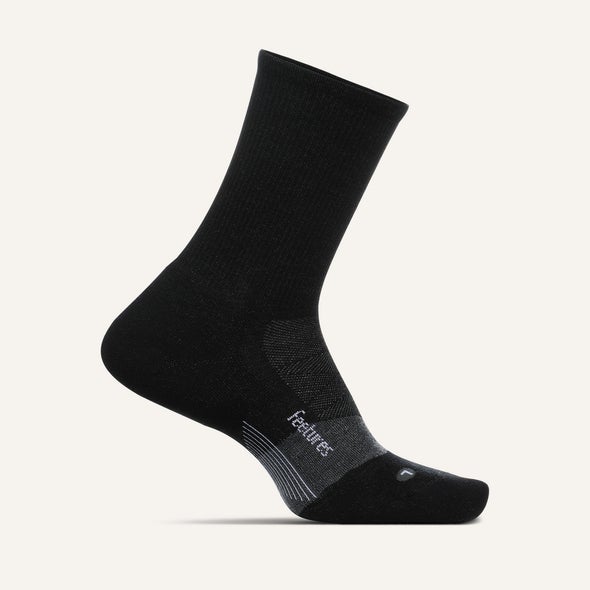 If you're looking for a little more coverage than an ankle sock, but less than the tall ski sock, these Merino wool crew socks from Feetures have the same appealing winter features (insulating to keep cold and wet out, cushioning, and compression) with a mid-rise design. Bonus: If you hate irritating toe seams, you'll love that the no-seam design.
---
Swiftwick Pursuit Two | $19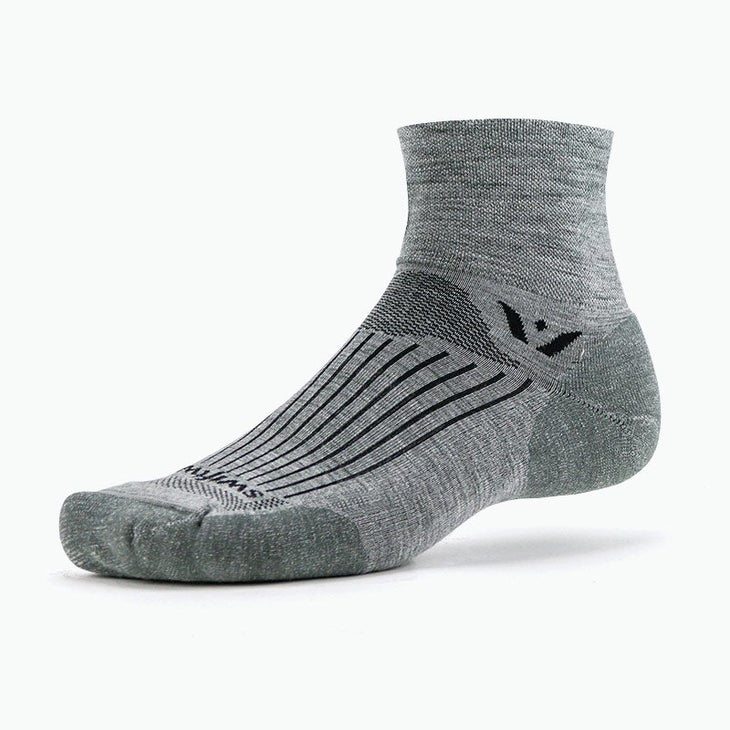 Here we have another sock made from Merino wool–that's because wool really does make a great athletic fiber that wicks away moisture while insulating much needed heat on a cold run. Comfortable and versatile are two words to easily describe these winter-ready socks that also do the trick as the days get longer and the frost starts to thaw.