What Runner Lingo Really Means To A Runner
Sure, we know what "chafing" is by definition, but what does it mean to a runner who's actually licking her wounds?
Heading out the door? Read this article on the new Outside+ app available now on iOS devices for members! Download the app.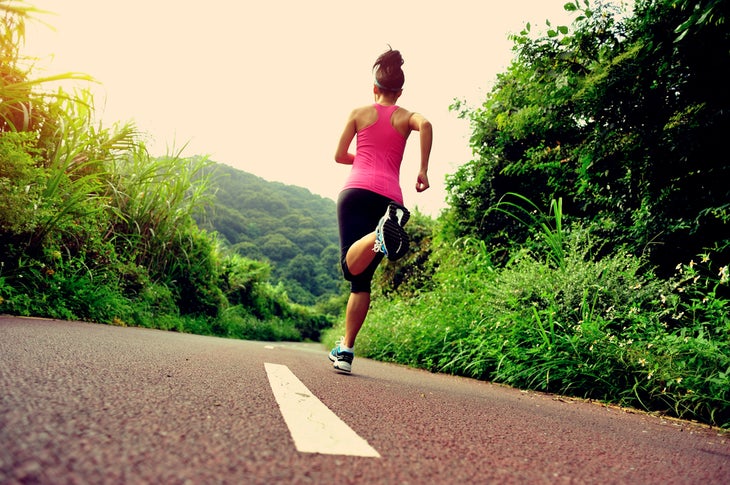 We've all heard runner jargon bounce between two runners trying to sound impressive or educate a newbie on the lingo. Fartlek, chafing, PR, tempo—if you've been around the sport enough, you have at least heard these used in conversation. But for those of us who have experienced theses words in action, the meaning feels a lot less technical and a lot more emotionally tied to our state of mind at that time. Sure, I can spout off the "technical" definition of the Swedish word for "speed play," but when you're out there executing an actual fartlek workout, the meaning tends to change appearance. Here's what I really mean when I say…
1. Fartlek: OMG, is this the top of the workout yet? I know they said it gets easier as you climb back down from 5-minute on to 1-minute on, but it kind of feels like my legs can't move any faster. Maybe I'm getting slower. Okay, wait, if I timed it right, I should be able to slow down at that stop sign…wait, no the next sign. Crap, we are on the 4-minute segment? I thought it was 3. Oh well, I'm probably ready to race anyway. I don't need to finish this. But I kind of do. Just think strong thoughts….what is a strong thought? I need water.
2. Chafing: Ow. Is that a sunburn? DON'T TOUCH ME!
3. PR: Yes! I worked, I slaved, I meditated, I prayed, I cried, I hated running, I loved running, I ate burgers, I ate carrots, I followed the plan religiously, I only missed one day and I went to the bathroom 15 times before the start line. All totally worth it.
4. Tempo: This should really be called a "temper" run, because you need a mad temper to want to do this. Why would I run race pace when it's not even the race? Whyyy? I mean, I guess it's KIND OF cool that I can make sure my goal time is reasonable for my fitness. Plus I probably look so fit running this fast right now.
5. Carbo-loading: I'm so glad I ran this morning. Now I can eat this entire pizza and not feel bad about it. Hmm…maybe I'll scrape some of the cheese off because that will send me running to the bathroom. Yea, and maybe I'll wipe off some of the grease, which is totally gross. Probably just go with pepperoni…but maybe I should just get plain. Actually, I'll get a salad and a beer, that way I can have pizza for dinner instead.
6. Singletrack: I don't get why I even bother running on this trail after 8 a.m. on a Saturday. There are SO MANY PEOPLE OUT.
7. Form: I should probably worry about this more, but I don't.
8. Pace: I keep it sporadic to keep up the muscle confusion. Right? That's how it works? I also hate my GPS watch and get way too antsy trying to nail the perfect 8-minute-mile average pace. Let's throw in a few 7-minute bombers in there, maybe dry heave for an 8:30er, recoup with a solid 7:30. It's all good. I mean, don't copy me, but it's all good.
9. Rest day: SUNDAY FUNDAY!
10. Foam roller: This is literally a torture device. Literally. LIT-ER-AL-LY. You're rolling your sore, tired, screaming body over a cylindrical object that intentionally has grooves and bumps to target the areas that are tightest and hurt the most. What part of that isn't torture?
11. Marathon: You hate to love it. But you totally love it.