10 Lessons That My Running Group Has Taught Me
You can learn valuable life lessons while running with others. Here's a few one runner learned from time spent with her running group.
Heading out the door? Read this article on the new Outside+ app available now on iOS devices for members! Download the app.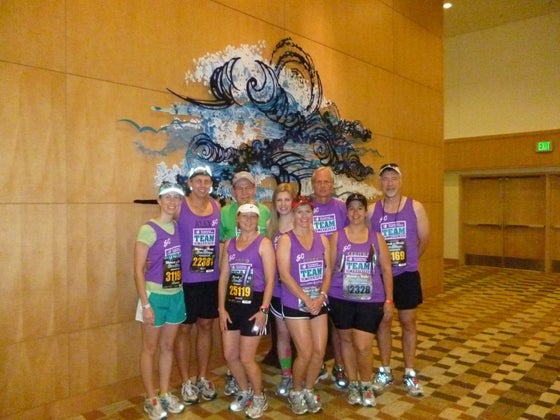 I trained for my first marathon entirely by myself. Literally not a single mile was run with anyone other than yours truly.  I had just moved to a new area and didn't know very many people, and in my small town, I certainly didn't know any other runners. The solitude never bothered me at the time. It was the only way I knew how to run. When I decided to run my second marathon with Team in Training, everything changed.
Now, instead of running solo all the time, I met with my training group 3 days a week. We laughed, cried, and swapped stories. I suppose we ran sometimes, too. Ever since I started running with a group, I've craved the camaraderie, and now I seldom run alone. It doesn't hurt that I've learned a few lessons along the way!
Every runner is either a "snotter," a burper, a farter, or a spitter. The polite thing to do is pretend nothing is happening when these unavoidable bodily functions occur.
If there is an extremely sweaty person in your group, it's unwise to run behind them in the summer.
It's ok to go to breakfast in your running clothes after your long run. Showering can wait,. Pancakes cannot.
The stories obtained from online dating adventures make the miles go by really fast.
Every town has rival running groups.
Everyone has bad long runs sometimes, even the really fast person in your group. Don't feel bad if today isn't your best day.
You'll share things when running with someone for the first time that you would normally never dream of telling a stranger.
Running groups are the best place to learn about fun new races and plan group trips.
You can always find someone to do your long run with you if you have to skip the normal date and time.
Running friends last a lifetime!
If you have not run with a group yet, I'd suggest giving it a try. Whether you make it part of your regular routine or not, you never know who you might meet or what strange and fascinating stories you might hear. You might even learn something.