No Retirement For Shalane Flanagan–She's Running Boston, Instead
Shalane Flanagan announced on December 11 that she intends to race Boston in 2018.
Heading out the door? Read this article on the new Outside+ app available now on iOS devices for members! Download the app.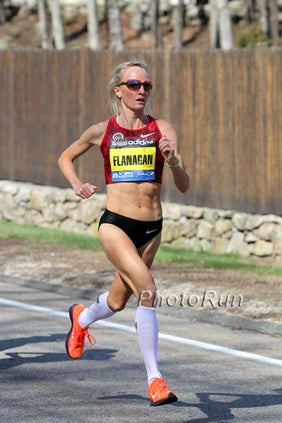 It's A Go For Boston 2018
The rumors are true: Shalane Flanagan will return to the Boston Marathon in 2018. The 2017 TCS New York City Marathon champion announced yesterday on Twitter that she would be part of the elite field competing in the 122nd running of the Boston Marathon. Hers is one of eight names on the list of professional female runners that sponsor John Hancock released yesterday–and it's arguably the name that those who follow the sport were most excited to see.
Related: Race Recap: Shalane Flanagan Wins The 2017 TCS NYC Marathon
Just last month, Flanagan was hesitant during an interview with Women's Running to commit to any official plans to race in 2018. Before running in New York City, Flanagan had suggested that it might be her last marathon as a professional runner, the thought of early retirement looming large after spending most of this year recovering from a hip fracture.
But her performance in New York City was reason enough for the running community to question the likelihood of her retirement. After sticking with three-time NYC Marathon winner Mary Keitany for the first 20 miles, Flanagan tapped into her higher gear, passing Keitany and winning by a full minute. She couldn't possibly leave professional running after a race like that…or could she?
"Whatever is next, it has to be of extreme importance to me, in terms of if I do come back and run another marathon," Flanagan told us after the race. "I'll sit down with my trusted circle of family and friends and coaching staff and sponsors and come up with what we think is the best next step, whatever that is."
Related: Our Interview With Shalane Flanagan, 2017 TCS NYC Marathon Champion
It's been five weeks since the NYC Marathon, and it appears Flanagan has now had those discussions. "My heart [heart emoji] said……give it one more chance, try again. See everyone in Boston on Patriots Day," Flanagan said in a Twitter post on December 11. At the time of the tweet, Flanagan was back in New York City, receiving an award from the New York Road Runners as its inaugural 2017 NYRR Pro Performer of the Year.
Though Flanagan has raced the Boston Marathon three times before and holds the American woman record for the course, she faces stiff competition from the other elite runners in the field. Jordan Hasay, who was the fastest American woman at the 2017 Boston Marathon, and Molly Huddle, who came in third in the 2016 NYC Marathon, are just two of the long distance American elites she'll face on April 16. "In the Boston Marathon's 122-year history, one will be hard-pressed to find a more accomplished American field than the one John Hancock has established for 2018,'' CEO of the Boston Athletic Association Tom Grilk told boston.com.
It'll be exciting to watch each pro train and strive toward a Boston win in the months ahead–and there's no question about Flanagan's ambitions. "Trying to win the Boston Marathon is 'it' for me," Flanagan told Women's Running during an interview in April. "It's the most meaningful race in my career. I really want to win it."
Related: