Triathlete And Veteran Helped U.S. Finish 1-2-3 On September 11
In 2004 she became the first American female service member to lose a limb during the Iraq War. But, she hasn't looked back.
Heading out the door? Read this article on the new Outside+ app available now on iOS devices for members! Download the app.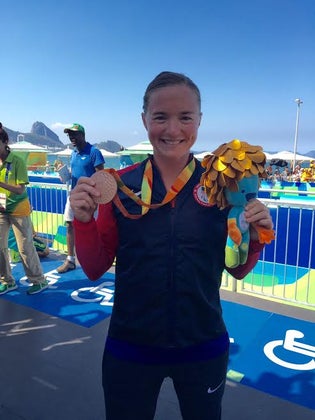 With the finish line of the Paralympic women's triathlon coming up, Team USA's Melissa Stockwell found herself in a battle for the bronze. If she could complete the 5K course ahead of Liisa Lilja of Finland, the Americans would have a sweep.
"I think she was 40 seconds behind me," Stockwell said. "She was gaining on me. I didn't know how much. [Someone said], 'She's 100 feet behind you.' That got me going. My goal was to stay in front of her."
Stockwell did just that, capturing the bronze to join fellow Americans Allysa Seely (gold) and Hailey Danisewicz (silver) atop the podium as a U.S. sweep of the PT2 category, which includes athletes with a "severe degree of activity limitation."
"I'm glad it didn't come down to a sprint finish," Stockwell said. "I was hurting pretty bad. At the very end, I walked across. I looked behind just once."
Stockwell completed the 5K run portion of the triathlon in 26:39. Her total time was 1:25:24 on a course where triathletes swim one .75-kilometer lap, bike four 5.57-kilimeter laps and run a 5K.
When She Lost Her Leg
On April 13, 2004, Stockwell became the first American female service member to lose a limb—her left leg—during the Iraq War, a challenge she has dealt with ever since. She was a 24-year-old U.S. Army major back then, leading a platoon of 20 down a central road by the Baghdad International Airport on what she described as "a common road of travel." Then a bomb exploded, injuring Stockwell. Her platoon sprang into action to help their commanding officer.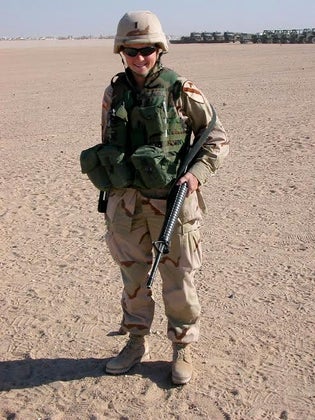 "They saved my life," she said. "We had a combat medic in the convoy, a few vehicles back, who started first aid and put a tourniquet on. And a fellow [service member] went with me in a vehicle to the nearest aid station and was with me every step of the way."
She had been serving in Iraq for just three weeks. When asked why she had enlisted, she said, "The short answer is, I love my country. I wanted to give back [to a country] that gave me so much. From a young age, I wanted to be in the military."
On April 20, one week after the roadside attack, Stockwell entered Walter Reed National Military Medical Center, where she learned to walk with a prosthetic leg. ""It took some getting used to," Stockwell recalled. "I don't think you ever remember learning how to walk on your own." After one month, in which she praised her doctors and therapists, she could walk on her own. "Obviously, you never expect to lose a limb," she said.
But, she added, "I've always been very optimistic, glass half-full. At Walter Reed, I met so many others from multiple wars who lost limbs or had TBI. I only lost one leg."
Stockwell was medically discharged from the military—she received the Bronze Star as well as the Purple Heart—and decided to use sports and competition as a way to honor those who had made the ultimate sacrifice.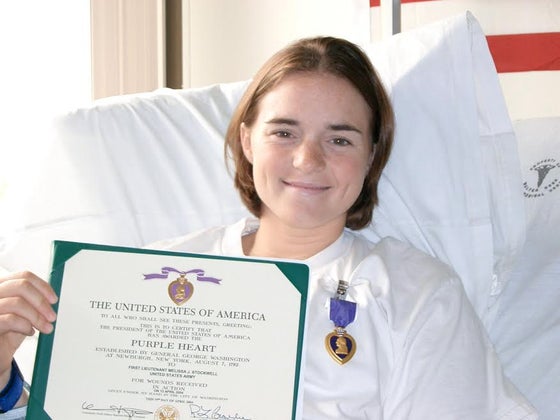 When She Became A Paralympian
In 2008, Stockwell was selected to compete for the Beijing Paralympics—the first Iraq War veteran to receive that honor. She competed as a swimmer, and after Beijing, she was invited to participate in the Challenged Athletes Triathlon in San Diego.
"I gave it a shot and was hooked early on," Stockwell said. "I was challenged in all three [events]. It's strange now, [the idea of] only training in one sport."
She discovered that she could excel in triathlons, winning three straight World Championships from 2010 to 2012.
"I never thought I would say I'm a three-time world champion," she said. "Swimming, I knew how [to do], and I knew how to ride a bike. I'm learning to run more every day. If I dedicate myself to something, I'm always goal-oriented. I do it all the way… You train for it, sacrifice, travel away from your family, put your career on hold."
Stockwell's resume, in addition to competition at the world level, includes past service on the board of directors of the Wounded Warrior Project. She also co-founded Dare2Tri, which introduces disabled athletes to the triathlon under the motto "One Inspires Many." Three Dare2Tri athletes medaled in Rio this year.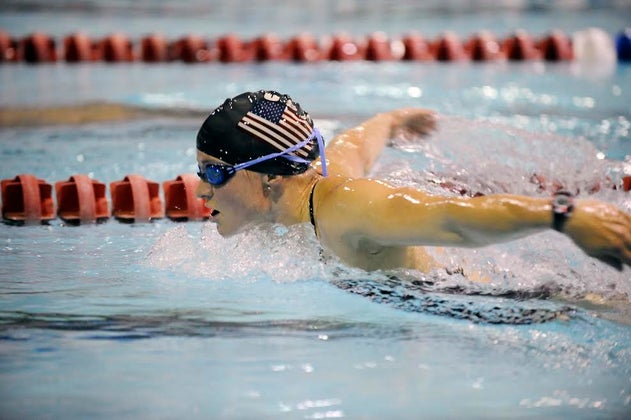 2016 Paralympics Introduce The Triathlon
However, 2016 was the first year the Paralympics included the triathlon, and for Stockwell, the road to a spot on the first-ever U.S. Paralympic triathlon team was not automatic. Only two athletes from each country can compete. Stockwell's eventual teammates Seely and Danisewicz were ranked first and second in the world, leaving Stockwell—who was number three in the world—on the sidelines. She waited to see if she would receive an invite.
"From March to July, I was training as if I was going to Rio," she said. On July 8, by committee vote, Stockwell was invited to join Team USA at Rio. The race took place on an important date for the Iraq War veteran—Sept. 11, 2016, the fifteenth anniversary of 9/11. So naturally Stockwell started the triathlon by dominating the swimming portion.
"Swimming is my strength," she said. "I was first out of the water by 40 seconds." On the bike, she said, "I led the first loop and was passed quite late in the second by both Allysa and Hailey." Seely and Stockwell got off their bikes at the same time, and on the run, Allysa took off, Stockwell said.
Despite running with a quad injury, Stockwell recalled, "At that point, I was going to be on the podium. I ran as quickly as I could. The fourth-place woman was behind me. On the first loop, Allysa passed Hailey… I was coming in third. I was near the finish. I knew I had third. Finland was not far behind. I saw Allysa and Hailey. I finished the race. There were American flags. It was a U.S. sweep… There was a lot of celebration when I crossed the finish line."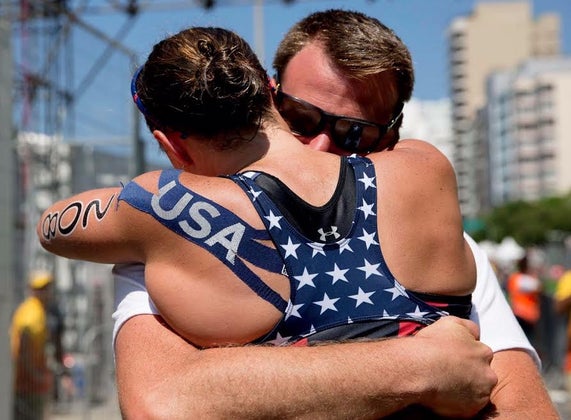 This tremendous podium finish and overall 1-2-3 victory concluded a memorable stretch for Stockwell. Her son, Dallas, was born 14 months prior, she and her husband, Brian, had gotten married, and she helped her fellow U.S. Paralympians pull off a historic triathlon sweep.
"I really wanted to be on the podium," she said. "Bronze felt like gold. I'm absolutely ecstatic… A USA sweep on September 11, to be on the podium, the American flags go up, it was one of the greatest moments of my life."