Olympic Trials Day 8: Rainy Day Redemption
Find out which three incredible hurdlers made it on to Team USA...and which woman didn't let a fall get her down.
Heading out the door? Read this article on the new Outside+ app available now on iOS devices for members! Download the app.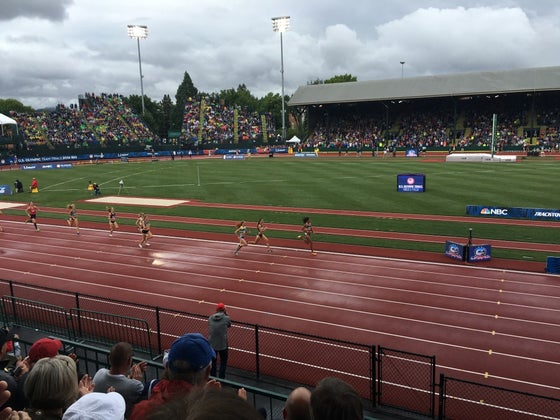 What the heck happened on day 8 of the Olympic Trials?
On tap today were a whole bunch more qualifying and semi-qualifying rounds. Get a refresher of what that means in our recap of day 7. Women's pole vault and 200 meters as well as men's 110-meter hurdles had their first round. Women's and men's 400-meter hurdles and 1,500 meters and men's 200 meters ran semi-finals. Finals (the races that decide who will go to Rio) were held for men's discus, men's 3,000-meter steeplechase and women's 100-meter hurdles.
What was the weather like?
For the first half of the day, it poured down rain. The precipitation was so heavy that the pole vault was delayed until the sun came out. In one the funniest moments of the day, when the announcer said hurdler Queen Harrison's name in the hurdles and the camera swung her way, she pointed up at the sky shrugged her shoulders and laughed. A little rain definitely didn't slow her town when she ran a blazing 12.78 seconds to finish first in her heat and advance to the next round.
Any other highlights?
In the first round of the 200, Allyson Felix (one of our favorite runners—she just dominates) advanced with a time of 22.93 seconds. Impressively, two a super youngster made it through to the semifinals as well. Candace Hill (who became the youngest athlete ever to be signed when ASICS picked her up last year at the age of 16) came in second in her heat!
You mentioned something about a redemption story?
You may have heard about the heartbreak in the finals of the women's 800 meters. Legs got locked together in the last 150 meters of that race and Brenda Martinez and Alysia Montaño both tripped. This was so painful to watch as Martinez and Montaño were projected to earn spots on the Olympic team—in a moment, thanks to a tiny trip, that dream was stolen.
Luckily for Martinez, she was racing the 1,500 meters as well. The semi-finals were held today and ran her heat like it was the last race of her life. Of course, she still has to race the finals to earn her spot on Team USA, but it was clear that she was not messing around—and that she wanted it badder than ever. Martinez crossed the line in first, gapping second place by more than a few stride lengths, with a look of pure grit on her face.
Did anyone become a future Olympian today?
Yes! The women's 100-meter hurdles ran the finals today to decide who would wear red, white and blue come time for Brazil. Briana Rollin's super smooth roll across all 10 hurdles to clinch first place was incredible to watch. (Fun fact: hurdles are much higher than they look on television—we stood next to one and it came up to our waist—so to see her leaping so fiercely over them is a thing of true beauty.) When she crossed the line she immediately embraced her friend Kristi Castlin who came in second and jumped up and down with joy. Nia Ali came in third, making her the final runner to punch a ticket to Rio. Our hearts went out to the incredibly talented Queen Harrison who came in fourth, missing the Olympic team by 0.02 seconds.
What about the guys?
The biggest race of the day was the men's 3,000-meter steeplechase. Evan Jagger, the American record-holder, killed the field, beating second place (Hillary Bor) by a full two seconds. Nike's Donn Cabral finished in third. In other excitement, in the 200-meter semifinals, 30-year-old LaShawn Merritt set a world's best time this year, running 19.74 seconds.
What's going on tomorrow?
Here's the schedule!
You can also watch on NBC by checking their listings.
Catch up on how the rest of the trials have been shaking out with our daily recaps!