Here's How Running Changed In The New Millennium
Starting in the year 2000, social media and the iPod made running even more interactive.
Heading out the door? Read this article on the new Outside+ app available now on iOS devices for members! Download the app.
Thanks to increasing female race participation, women started to become a force to be reckoned with in the new millennium. And due to the growth of the Internet, which sparked the advent of social media, running—just like basically every other aspect of human existence—made technical leaps and bounds in the digital age.
We can't help but include that the aughts delivered Women's Running to our doorsteps. What started as Her Sports + Fitness in 2004 zeroed in on running in 2008, which tripled newsstand sales. With articles that appeal to both beginners and elites, the magazine has recently been praised for its inclusive and diverse coverage of the entire community of female runners. (We couldn't do it without all of you, so thank you for taking us on the journey!)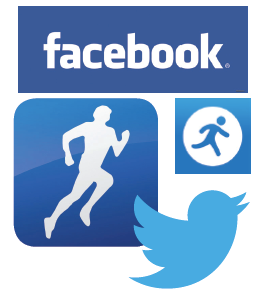 With the launches of Facebook and Twitter and the beginning of fitness-focused apps like RunKeeper and MapMyRun, social media amped up running culture. People could more easily find tips, races, inspiration, fundraise and even lure run buds to lace up for a sweat session or a good cause. The masses could track their own runs and training, as well as connect with elite runners, and share all their miles and infatuations with nearly every person they'd ever met—and more.
In 2007, British racing phenom Paula Radcliffe proved that being a mom and a world-class athlete could go hand in hand. Less than 10 months after giving birth to her first child, she returned to racing to win the New York City Marathon with a time of 2:23:09. Before the race, Radcliffe was quoted in The New York Times as saying, "If I'm happy, I train better and I race better…and the fact that I've got a little angel in my life makes me run better."
In 2005 Vibram FiveFingers first came out to the delight of many with strong toes and feet. The 2009 release of the book Born To Run helped the idea of minimalism (or barefoot running) to enter the running consciousness. It was also at this time that we fell in love with the hard-drinking, tough-as-nails American ultrarunner Jenn Shelton—our hero from the book on every runner's nightstand. In an article from the same year by author Christopher McDougall in Outside, Shelton is quoted: "When I'm out on a long run, it's just me and the movement and the motion. That's what I love just being a barbarian, running through the woods."
On Oct. 23, 2001, the iPOD debuted, bringing a whole new tunes game to the mileage-obsessed. Now you could listen to completely different songs during your whole entire run with "1,000 songs in your pocket."
RELATED:
Here's A Flashback To Running In The 1990s
Running Milestones That Happened In The 1980s
What Running Was Like In The 1960s
Take A Look Back At Running In The 1970s