Alysia Montaño Is Racing At USA Championships While Pregnant—Again!
Olympian Alysia Montaño will race in the USATF Outdoor Championships 800m this Thursday while pregnant for the second time.
Heading out the door? Read this article on the new Outside+ app available now on iOS devices for members! Download the app.

Alysia Montaño will race in the USATF Outdoor Championships 800 meters while pregnant for the second time.
Seven-time national champion, as well as our May 2015 cover runner, Alysia Montaño has announced that she will run in this year's USATF Outdoor Championships 800-meter race while pregnant. This will be the second time that 31-year-old Montaño has participated in a national championship while expecting, her first taking place three years ago while she and husband Louis were eight months pregnant with their first child, Linnea.
Related: Why Alysia Montaño Ran Through Her Pregnancy
This time, Montaño will race five months before her November due date. The first round begins on Thursday and will be Montaño's 12th time(!) competing on this stage. Though she didn't expect to win the last time she raced while pregnant, Montaño explained that she still thought it was important to participate. "We see so many people in different avenues of their life start their family and it looks so different for a professional athlete, especially a female professional athlete," Montaño said shortly after completing the race in 2014. "This is what it looks like to be a professional athlete as a woman and still continuing on with your career."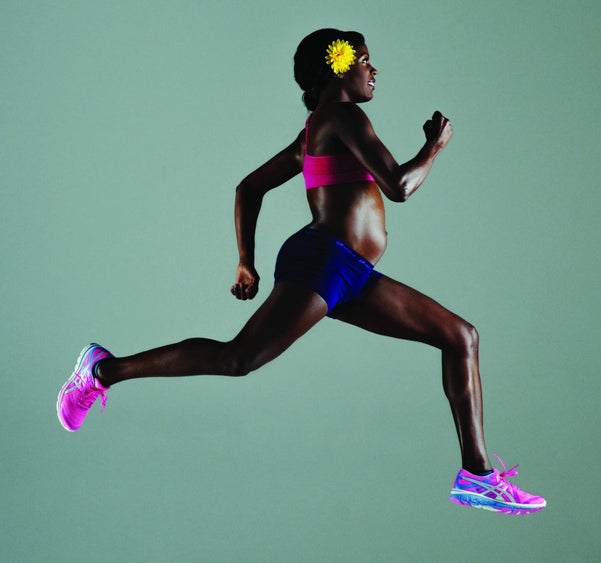 The 2012 Olympian qualified for the championships last July with her 2016 Olympic Trials time, 2:00.26. She missed making the 2016 Olympic team after a few runners got tangled and she went down on the track. Though Montaño raced just once this year at the Millrose Games in February, she set a new personal best with a time of 1:09.55 for the 500 meters. Her last championship victory was in 2015. Montaño's participation in this year's championships, held in Sacramento, Calif., will begin this Thursday, June 22 when the first round of the women's 800 meters begins.
Related:
How Alysia Montaño Went from Expectant Mom to U.S. Champ