Adidas Launches "Fearless AF" Video Campaign In Time For The NYC Marathon
Adidas announced today the launch of its new film Fearless AF, featuring six TCS NYC Marathon runners and champions.
Heading out the door? Read this article on the new Outside+ app available now on iOS devices for members! Download the app.
These Women Are Fearless AF
Fearless AF is the new video campaign about women runners that everyone in the running community is going to want to watch. Unveiled by adidas today, the film shares the inspiring stories of six powerful women, all of whom are adidas athletes and ambassadors. Fearless AF features supermodel Karlie Kloss (who will be running the TCS NYC Marathon on Sunday), defending TCS NYC Marathon champion Mary Jepkosgei Keitany, ultramarathoner Robin Arzon, Girls Run NYC founder Jessie Zapo, Olympic distance runner Jen Rhines and the running world's favorite 261 Fearless marathoner Kathrine Switzer. The video emphasizes the individual paths that women carve out for themselves within the running community–something each of these six women is extremely familiar with.
Alexa Andersen, director of the women's running division at adidas U.S., explained, "We're past the point of empowering women. Women are already empowered. This campaign is about celebrating real women who tackle challenges head on, defy conventions, express themselves and fuel creativity in the name of sport."
Each woman featured in Fearless AF own their own title–while Switzer shares the "Fearless AF" moniker with the film, Keitany is "Determined AF" and Rhines is "Fierce AF." As adidas celebrated today's campaign launch, the brand encouraged female runners everywhere to pick their own "AF" title. Once they do so, runners based in or visiting New York City can create t-shirts emblazoned with their chosen mantra between November 2 and 6 at adidas' store in New York City–and, of course, runners can also share their titles on social media by tweeting @adidasrunning, @adidaswomen, @adidasnyc and tagging #takecharge.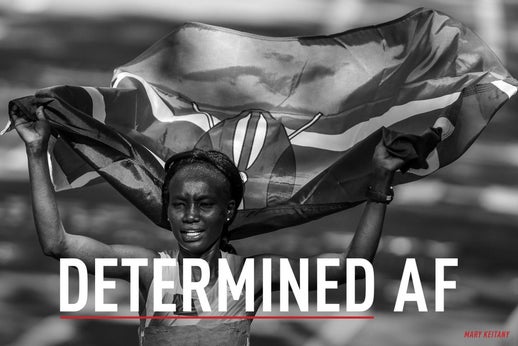 Related:
Follow Our Coverage Of The TCS NYC Marathon
48 Fun Facts About The 48th Annual TCS NYC Marathon