10 Running Songs By Singers Who Act (And Vice Versa)
Add these songs by double-threat artists to your favorite running playlist.
Heading out the door? Read this article on the new Outside+ app available now on iOS devices for members! Download the app.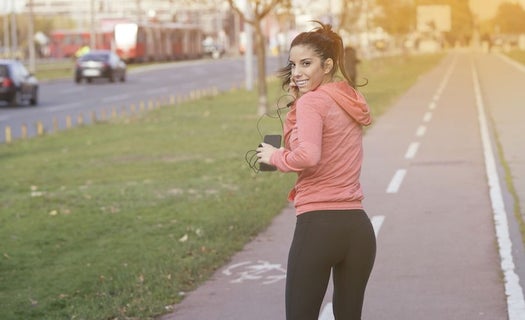 In show business, it's not uncommon to hear about triple threats: folks who can act, sing and dance. Over the years, there has been an increasing number of references to quadruple threats, though the fourth skill varies from reference to reference. On one hand, it could be something akin to the main three talents—like the ability to compose, direct or play an instrument. Alternatively, MTV once created a category at the Video Music Awards specifically for multi-hyphenate performers and extended the qualifications to include entrepreneurship and/or activism. (The Quadruple Threat of the Year award was given just once—to Justin Timberlake in 2007—before it was retired.)
To keep things simple, we've compiled a running playlist devoted to just one subgroup from the bunch above: singers who act. The list begins and ends with collaborations between folks from that class and their Hollywood and Broadway counterparts—actors who sing. Elsewhere in the mix, you'll find "Rebel Rebel" from the star of Labyrinth and "Up in the Air" from Jared Leto and company. Further stacking the deck, there are tracks which pair two thespian vocalists together—like a club track from Lady Gaga and Beyoncé or "Real People" by two co-stars from Barbershop: The Next Cut.
As an artist, the virtue of working in multiple media is that it increases the number of places folks might encounter your work. As someone heading out for a jog, this ubiquity can provide a benefit as well. Namely, these tracks will likely sound more accessible because the folks behind them turn up in more places. So, to put a mix of familiarity and liveliness to work in your next outing, consider anything from our list of hit tracks from the double, triple and (possibly) quadruple threats below.
Jamie Foxx & Justin Timberlake – Winner – 90 BPM
Whitney Houston – How Will I Know – 120 BPM
LL Cool J – Mama Said Knock You Out – 103 BPM
30 Seconds to Mars – Up in the Air – 124 BPM
Lady Gaga & Beyoncé – Telephone – 122 BPM
David Bowie – Rebel Rebel – 127 BPM
Ice Cube & Common – Real People – 106 BPM
Dave Matthews Band – What Would You Say – 120 BPM
Jennifer Lopez & Lin-Manuel Miranda – Love Make the World Go Round – 99 BPM
To find more workout songs, folks can check out the free database at Run Hundred. Visitors can browse song selections there by genre, tempo and era to find music that best fits their particular workout routines.
Related:
A 90s Throwback Playlist For Your Next Tempo Run
The Ultimate Katy Perry Workout Playlist