10 Cover Songs That Give Your Workout Favorites A Second Wind
Each of these 10 cover songs breathes new life into old favorites.
Heading out the door? Read this article on the new Outside+ app available now on iOS devices for members! Download the app.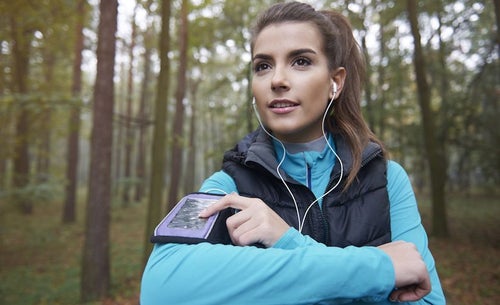 The appeal of cover songs in your workout mix is straightforward, since they balance the familiarity of the original tunes with the freshness of new perspectives. To illustrate this point, we've rounded up 10 remakes that present songs you probably know in versions you may have missed. With that in mind, let's survey some upbeat updates.
The playlist kicks off with a heavy version of Ginuwine's "Pony" and closes out with an urgent take on INXS' "Need You Tonight." In between, you'll find a pop punk version of the sing-along favorite "500 Miles," a horn-driven approach to "Come on Eileen" and an alternate reading of "Rock the Casbah" that extends its Arabic roots. Elsewhere in the mix, you'll find the frontman of Nine Inch Nails and frontwoman of the Yeah Yeah Yeahs tackling Led Zeppelin, The Oak Ridge boys turning The White Stripes' signature song into a country epic and a Passion Pit cover of The Cranberries' "Dreams," which feels even more poignant in the wake of singer Dolores O'Riordan's recent passing.
When attempting a version of a song already held in high regard, one's up against long odds. It's tough to improve upon a track that's already won folks over. To that end, we've favored recordings that aim mainly to provide perspective (rather than improvements) highlighting angles and elements different from those showcased in the originals. At the risk of sounding glib, it's possible that—in the course of covering a song—one is actually uncovering it. To put this theory to the test on your next run, you can find our selections below.
Trent Reznor, Atticus Ross & Karen O – Immigrant Song – 120 BPM
MxPx – (I'm Gonna Be) 500 Miles – 134 BPM
Speedway – Genie In A Bottle – 165 BPM
Rachid Taha – Rock El Casbah – 134 BPM
The Oak Ridge Boys – Seven Nation Army – 125 BPM
Passion Pit – Dreams – 150 BPM
Sugar Ray – Abracadabra – 128 BPM
Save Ferris – Come on Eileen – 111 BPM
Cassettes Won't Listen – Need You Tonight – 105 BPM
To find more workout songs, folks can check out the free database at Run Hundred. Visitors can browse song selections there by genre, tempo and era to find the music that best fits their particular workout routine.
Related:
A 1960s Rock Playlist To Keep You Running Through Time
10 Soundtrack Singles To Score Your Next Run