What Do You Do When Your Marathon Is Over?
You've trained for months and your race is done. Now what?
Heading out the door? Read this article on the new Outside+ app available now on iOS devices for members! Download the app.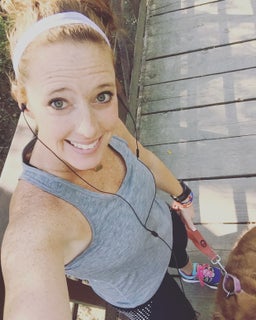 *Courtesy of Red Head On The Run
A marathon (or any long-distance race) is a big deal. It takes months of training and focus and attention. It takes sacrifice and early bed times on Friday nights. Time away from family and friends and long hard runs before the world wakes up. It takes a lot. But it also gives a lot right back when you cross the finish line. It's all worth it. However, it can also leave you wondering what to do after the high wears off. Here are a few tips that have worked for me…
Give yourself a week to recover, if not two.
After your big race, you may experience a slight high; at least I do. For several days afterwards, I feel like I can conquer the world. Last Tuesday, after running the Chicago Marathon on Sunday, I went for a little shake out run. It may have been slightly ambitious, but I felt that good. I haven't always recovered that well, but I decided since I felt so good I'd keep the momentum going. I had trouble with my achilles during the race, and after the shake out run on Tuesday it still hurt, so I hung it up for a few days. By Thursday of last week my body completely crashed. I caught a horrible cold that has turned into a sinus infection that I'm still fighting. So, no running until I kick it. All that to say, give yourself time to recover. That will look different for everyone. Go walk, which is a great way to stretch out sore muscles but it keeps your impact low. Hit up a yoga class, drink LOADS of water and lots of vitamin C, fruits and veggies. It's fairly common to catch a cold in the days after a long distance event, especially if you involve travel in your race plans. A statement in the Exercise Immunology Review says this:
"Researchers believe there's an "open window" of impaired immunity that may last between three and 72 hours after a big event. During that time, your body's resistance to pathogens is lowered, leaving you at higher risk for infection."
During that window, I got on a plane. Gross. So, I'm having to let my body recover in a different way than just sore muscles, which I only had for a couple of days. It takes time. So, give yourself some grace and tone back your training for a week or two. You'll be so much better off for having played it smart post race. It will also help your mind after months of intense and planned out training to just be free to run or walk or do whatever you feel.
RELATED: How To Recover Properly After A Race
Tweak your nutrition.
After your big race, friends may bring you this…
And then you decide to go eat out with friends and you land with this…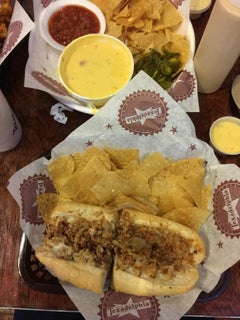 Don't hate. It looks amazing right? It was. So, I'm a moderation gal. I'm not super restrictive in what I eat as long as meals like this remain an occasional indulgence instead of my every day option. When it becomes frequent, that's an issue. So, for me, post marathon training should involve a little detox. I did eat some of those Oreo's by the way, and my amazing pal that delivered them to my door step knew they would hit the spot. But, now that I'm over a week out, it's time to step up my nutrition a bit. Leading up to a big race, specifically a full or ultra or even a half or full Ironman, you carb up. I don't go nuts but still, I consume more than my norm in the days leading up to race day. The same can be said post race. For a couple of days after I can not get full. Then, I'm left with cravings and the need for carbs. So, a little "detox" is in order.
I'm not talking starvation here or pushing a liquid diet that makes you so hungry you want to punch someone in the face for 3 days. I'm just talking a clean eating, low carb fix. I did this last year after the Dallas Marathon when I followed WHOLE 30. For a long-term way of eating, it was way too restrictive for me. I was hangry…a lot. But, I felt good by the end and I felt lighter and less bloated. It was dreamy in that sense. So, I'm back on board a modified version of Whole 30 just to detox my system a bit and start my next training cycle fresh. It's worth a try right? You may just find you feel better than you did before your race.
Run "naked."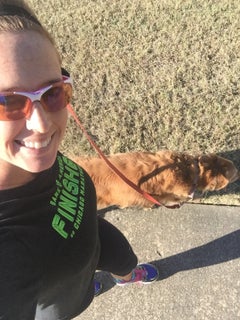 After months of tracking pace, I like to take my Garmin off for a couple of weeks while I recover. Just go man. No pace, no time, just run or walk based on feel. Take the dog, take a friend, hit a more technical trail that you haven't been able to train on. Hit some hills sister(or brother). Just run by feel. It's so freeing and it's a great way to re-set your mind for whatever is coming next for you.
Sometimes, I run better with no Garmin and no music. I take the time to focus on form and technique and my breath. Have I developed any bad habits in the last few weeks or months of training as my body got more and more fatigued? Did I skimp on strength training as my mileage went up? For me, the answer is yes. So, I take some time to just run and think and re-set. I focus more on strength training (not that first week, let your muscles recover, but I usually start back with weights during week 2) without having to worry about being too sore for my next long run. It's a great time to re-set. Take advantage of it but keep moving so you don't lose momentum or fall into a funk.
RELATED: This Is Why You Should Leave Your GPS Watch At Home
Have a shorter race on the schedule.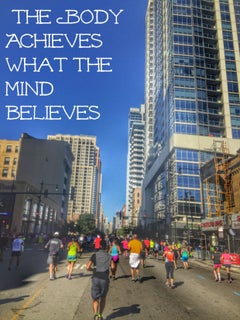 For me, having a race on my schedule keeps me motivated. I find after a week or two (or a day or two) I'm ready to rock with another goal. So, have something different on the schedule. Maybe your goal(like mine) is to work on speed. Marathons kill my speed. I'm just not a fast marathoner. And that's ok. My hips won't allow it at least for now, so, my best bet is to focus faster efforts on shorter distances. I'm registered for the Rock 'n' Roll San Antonio half in December. It's not a huge turn around so I'm not sure how much speed I'll be able to gain over the next 7 weeks, but it's something.
We are doing it with several other couples so a weekend away with friends is the treat, the race is a bonus…and the shirt of course, we all know I'm in it for the shirt. I'd love to PR my half marathon time, so that's my goal. However, I know coming off of 18 months of nothing but marathon training may leave my body a little tired. So, I'll take it how it comes. The point is, have another goal. In my opinion it should be something a little less intense and a little more fun, with a new and different challenge such as finally snatching your 5K PR. Go after it, because no goal is too small.
Hopefully this is helpful to you if you find yourself floundering around a bit after your big race is over. Get up and get out there! You are capable of so much more than you give yourself credit for, I promise. Enjoy a break then allow yourself to ease back into something you'll enjoy. And happy running!