How To Pick Up The Pace And Transition To Trail Racing
If you've been running on the trails for fun and have some experience under your belt, here is how to make the jump and start trail racing.
Heading out the door? Read this article on the new Outside+ app available now on iOS devices for members! Download the app.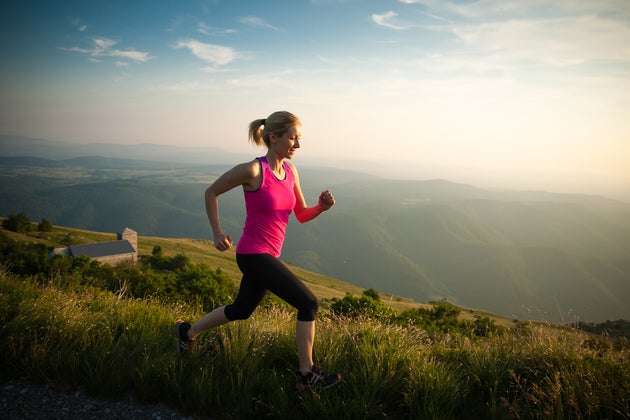 Trail running is beneficial for just about every body, mind and soul. Running on a natural surface—wood chips, dirt, grass, sand—not only strengthens everything in your body differently from road running, but it's easier on joints. And the mental benefi ts of trail running are notable too. Exercising in a natural environment has been proven to do wonders for improving a mood. And who wouldn't want that?
If you say…"I'm already a trail runner—but I want to race."
You're comfortable picking up the pace off-road. Maybe you've been running on trails for a while and already have a pair of terrain-specific kicks—racing, on the other hand, feels like a different ballgame.
RELATED: Ten Etiquette Reminders For Running Or Racing On The Trails
Pick an event.
Trail racing provides both a new challenge and a fun, social environment with like-minded folks. Search online for trail races in your area, and consider the distance, type of trail, reviews and cost.
Train specifically.
Once you've signed up for your race, try to mimic the course's elevation changes and terrain during training runs. If the race you've entered climbs for the first two miles, train on a two-mile climb. And don't forget about "what goes up…." Learn to run downhill at a race-ready clip by practicing quick descending.
Dress rehearsal.
Choose what you'll be wearing on race day—from your shoes to your socks, bottoms, top, sports bra, sunglasses or hat, gloves, hydration, etc.—early on. Then train in that same getup. If anything you're wearing or carrying bothers you during training runs, swap it out for something else. Do the same with your race-day nutrition.
RELATED: Never Let Fear Hold You Back From Trail Running
Pack smart.
On the day of your race, bring everything that you've trained in (as mentioned above), plus something to change into afterward…including a clean pair of socks and shoes or flip-flops. You'll likely want to hang out for a while with your new trail-racing friends.