The North Face Is Building Stronger Runners
A premier trail running brand, TNF is bringing hardcore to the masses with their new training program.
Heading out the door? Read this article on the new Outside+ app available now on iOS devices for members! Download the app.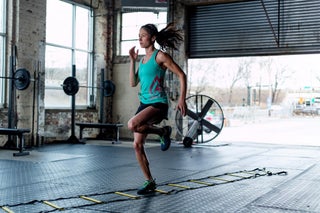 The outdoor brand is partnering with the November Project to bring workouts to major U.S. cities.
When you think of The North Face brand (TNF), what comes to mind? Big mountain adventures, grand expeditions, tough-as-nails athletes and burly duffel bags perhaps? Before planned athletic adventures—as opposed to spur-of-the-moment adventures on the daily—participants go through intensive training and preparation. That goes for all athletes, not just the professionals. To encourage more people to set goals, push their limits and and have fun outside, TNF worked with Rob Shaul, creator of Mountain Athlete in Jackson Hole, Wyo., to create a fitness program for athletes gearing up to tackle their own adventure.
The end product? Mountain Athletics. These sport- and ability-specific strength and agility workouts are coming to major cities around the country. TNF is partnering with the November Project (the grassroots fitness movement that started in Boston as a way to stay in shape during the winter) to provide free, hour-long classes every Tuesday and Thursday evening at 6:30 in Boston, New York, Washington D.C., Chicago and San Francisco. And be prepared—classes are outside. TNF clothing isn't required, but the brand does have a new line tailored to meet the needs of the Mountain Athletics program.
"No matter what you train for or how you train for it, The North Face has the program, durable apparel and footwear and supportive community to help you reach your goal," explains Katie Ramage, the director of sports marketing at TNF. "We've teamed up with the November Project, the free fitness movement sweeping the country, to invite anyone training for an outdoor goal to step up their training with expertly designed sport-specific workouts or if they can't make a workout, we would suggest the Mountain Athletics workouts on the app."
RELATED: Photos Of The Challenging North Face Endurance Challenge
I survived a demo class last summer, and, despite a hefty dose of griping, I actually enjoyed it. Workouts are designed to build all-over fitness, as well as functional fitness, for your sport of choice. As a runner, my workout included plenty of agility-boosting burpees, leg drills and strength building, including weighted pallet pulls while running sprints. Working out with a coach and a group makes you try harder than you might on your own, and in partner exercises, like the pallet pull, two of us accomplished more reps than I would have solo. My quads reminded me of that fact when I got out of bed the next morning—it hurt so good! For maximum benefit, begin incorporating Mountain Athletics workouts into your training well before your race or goal event.
If you aren't close to a live event, there's an app for that! Not only does the app provide a workout schedule and tracking, but it also includes videos of TNF athletes demonstrating how to perform specific drills and exercises to ensure proper form and technique.