Ever Wonder What A Spartan Race Workout Looks Like?
Heading out the door? Read this article on the new Outside+ app available now on iOS devices for members! Download the app.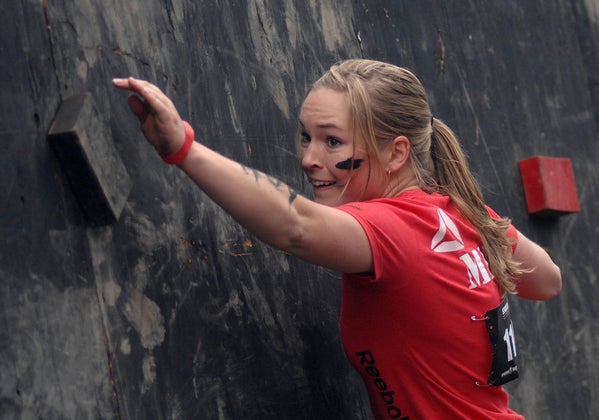 Excerpt used with permission of Spartan Fit!
Spartan Fit! by Joe De Sena, the creator of the uber-popular Spartan Race series, is bringing the get-ready-to-rumble workout to the masses with this training book/log. The tagline: 31 days. Transform your mind. Transform your body. Commit to grit. No gym required. Here's a quick peek at what a workout looks like in a day in the life of—being SPARTAN FIT!
DAY 0: TEST DAY
"The best preparation for good work tomorrow is to do good work today." — Elbert Hubbard
1. Warm-up
This warm-up is designed to increase your heart rate, prepare the major joints and muscle groups for movement, and practice contralateral movements (skipping, crawling). Perform at a relaxed pace that leaves you warm and just starting to sweat. Complete before every workout.
• 10 ankle circles and wrist circles (5 in each direction)
• 5 minutes jog, row, bike, or jump rope
• 2 rounds of:
–– 30m skipping
–– 10m bear crawl
–– 10m reverse bear crawl
–– 10m walking lunges
–– 10 squats
*m = meters
2. Workout
Complete these three fitness tests in sequence as if they were a mini–Spartan Race.
• Dead Hang Test — hang from a bar for as long as possible, palms out. Record time.
• Burpee Test — do as many burpees as possible in 5 minutes with race form. Record reps.
• Distance Test — run (or walk) as far as you can in 30 minutes. Record distance.
HELL NO (maybe next year)
Dead Hang Test < 30 sec.
Burpee Test < 40 reps
Distance Test < 5 km
SO SO (I could survive the race)
Dead Hang Test 30–60 sec.
Burpee Test 40–65 reps
Distance Test 5–7 km
AROO! (I could TOTALLY THRIVE at the race!)
Dead Hang Test > 90 sec.
Burpee Test> 65 reps
Distance Test > 7 km
3. Cool-down
Finish each workout with a few minutes of static stretching or light yoga. Your muscle tissue is warm and elastic at that point, so it's the ideal time to increase your flexibility.
Read More: 
Photos From The Reebok Spartan World Championships
Winner Of Spartan's 'Fittest Bride' Race Gets Free Wedding Reception