How To Run With A Slower Friend And Still Get Your Training In
So your friend wants to run with you, but she is a few minutes slower per mile. Here's what to do.
Heading out the door? Read this article on the new Outside+ app available now on iOS devices for members! Download the app.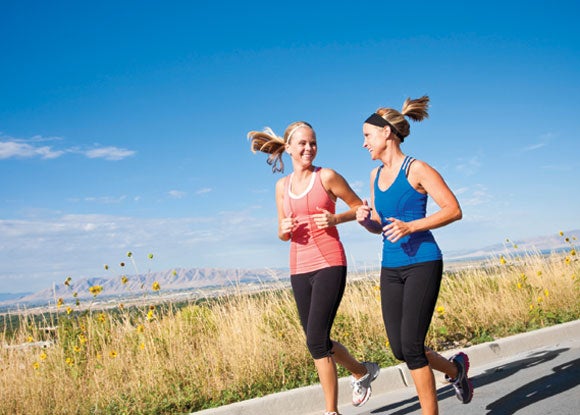 Etiquette expert Lizzie Post, great-great-granddaughter of Emily Post, knows a thing or two about the rules of the road—and the descendant of the famous decorum diva is a runner too! 
Q: A friend repeatedly asks me to run with her, knowing that she is 3 to 4 minutes per mile slower than me. I'm glad she is exercising and want to encourage her but I have my own training goals. Is it better to keep making up excuses or be honest?
Is it possible to make this work with your schedule if your friend isn't comfortable at your pace? It's okay for your training to be a priority—this is your life and your free time! But what about finding time for the occasional fun run? No pressure or need to swap out an important workout—just make sure this falls on an easy day.
You could say something like, "I'd love to go on some runs with you when we both have the chance. I'm training right now, so it's a little harder to commit to frequent buddy-runs, but let's keep in touch!" Now, do the good thing and reach out to your friend with a day or two that would work.
If you really don't want to run with her at all, it's best to be honest. No reason to come up with excuses about not having any time—she'll catch on if you only say no to running invitations but make time for dinner. Try: "It's awesome that you're loving running! I tend to keep my runs to my training schedule, but if you ever have questions I'm happy to help." You've encouraged her and offered knowledge, but you haven't said you'll run with her.
Keep it short and sweet, but remember to be truthful! One idea: "I like to run alone, but I'll definitely cheer you on! I'm always stoked to have more friends who love to run." But you really do have to prefer working out alone. If your friend sees social media posts with other running partners, her feelings will surely be hurt.
Have a question for Lizzie? Email editorial@womensrunning.com or tweet @womensrunning with the hashtag #ProperForm.