7 Ways You Can Turn Exercise Into A Social Activity
Tired of running on your own? Try these cross-training alternatives with a group of friends! Here's how to make exercise more social.
Heading out the door? Read this article on the new Outside+ app available now on iOS devices for members! Download the app.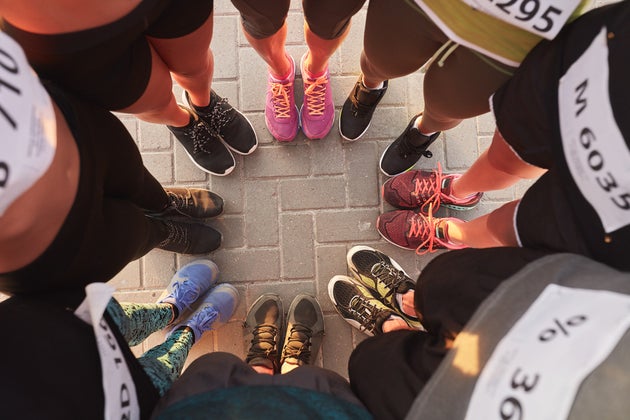 *Content Courtesy of acefitness.org
It's vitally important to maintain a strong social network and a physically active lifestyle. By merging your social life with your fitness program, you'll get some exercise while hanging out with your favorite people. The bonus? You'll have a great time, strengthen your friendships, meet new people, and stay on track with your fitness goals.
Here's how:
Go for a hike. Gather your friends and plan a day of fun and fitness at a local, state, or national park. Pack a lunch, plenty of water, and your camera.
Team sports. Recreational leagues are available for men and women of all ages and abilities. You'll get together for practices and games and may even travel to tournaments. Check with your local parks and recreation department or search for softball, baseball, soccer, volleyball, or tennis leagues online.
Put on your dancing shoes. Even if you've never danced a step in your life, it's never too late to learn how. Learning how to swing, tango, rhumba, or do the Hustle is fun, energizing, and a great way to sneak in some exercise. Some communities offer dance clubs where members meet regularly to learn new steps and practice together.
Join a group fitness class. Invite your friends to sign up for an exercise class together. There's an endless variety of formats to choose from: water aerobics, yoga, Pilates, martial arts, Zumba®, step, cardio kickboxing, cycling, boot camp, and more. You're sure to find something that makes you sweat and laugh.
Consider small-group personal training. Working with a certified personal trainer can help you break through fitness plateaus and reach new levels of health and fitness. Small-group training sessions are more fun and often less costly than one-on-one sessions. Look for a certified personal trainer who offers group sessions, and invite a friend or two to join you.
Enjoy seasonal activities. Make fitness a year-round habit by sharing fall, winter, spring, and summer activities. Resolve to try new sports together and find some new favorites. From fishing and camping to snowshoeing and sailing, if you maintain an open mind and an adventurous spirit, you'll never run out of ideas for fun and fitness.
Get out of town. Take an active vacation together and enjoy walking tours, bike tours, kayaking, or golf. Go on a picture safari, explore the bell towers of medieval cathedrals, tour museums and historical sites, and have a ball.
There's nothing like a shared experience to bring friends closer together. And there's nothing like a workout partner to keep you on track. Joining your active lifestyle with your social life creates a synergy that makes both even better.