4 Big Lies About Running And The Real Truth Behind Them
Don't believe everything you've heard about running. Find out the truth behind common misconceptions.
Heading out the door? Read this article on the new Outside+ app available now on iOS devices for members! Download the app.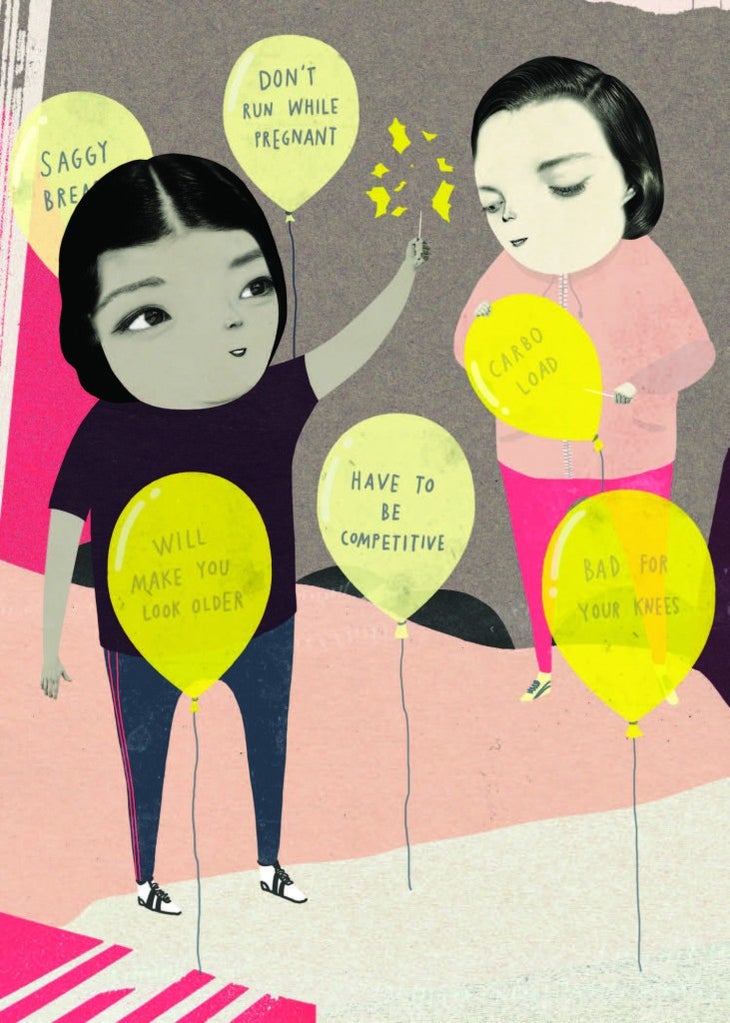 You've likely heard running will degrade your joints or pregnant runners should cut back on mileage. There are lots of commonly accepted beliefs about running—many of which are pure hokum. From carbo-loading to altitude training to suffering from "runner's face" (what?!), our panel of experts exposes the fiction to show the truth behind these running myths.
You have to be born a runner to run.
Pish-posh! "A lot of people don't become runners until later in life," asserts Annika Braun, coach for McMillan Running in Arizona, who says many of her coaching clients come from other athletic backgrounds—and even more have no previous sports experience at all!
TRUTH: Whether you started at 6 years old or 66, you can be a runner (yes, you!). What are you waiting for?
Related: Why Running Is Awesome At Any Age
You shouldn't run while pregnant.
For many years, doctors advised expecting moms to abstain from virtually any exercise during pregnancy, believing such exertion could be harmful. Today, it's the opposite: Exercise is considered a benefit for both mother and child. Active pregnant women experience fewer symptoms of morning sickness, have a reduced risk of gestational complications and better tolerate labor pains.
If you were running before pregnancy, it's likely your doctor will encourage you to run through pregnancy. However, you should not run if you have complications like elevated blood pressure or are carrying multiples.
TRUTH: Running is safe anytime—during the first, second and third trimester—if you are having an uncomplicated pregnancy.
Related: Don't Be Slowed Down By These Pregnancy Side Effects
Running causes anemia in female runners.
This myth is one Nancy DiMarco, director at the Institute for Women's Health at Texas Woman's University, frequently hears from her patients. Anemia, a deficiency of red blood cells, is linked to low iron intake, not running. "Without enough iron in the diet, an individual, whether she exercises or not, can become anemic, but exercise in and of itself does not increase the risk of developing anemia," says DiMarco. Anemia is often diagnosed sooner in a female athlete, because symptoms, such as fatigue and shortness of breath upon exertion, are more obvious to someone in training than to a sedentary woman.
TRUTH: Most people (runners and non-runners alike) could benefit from more iron in their diets. Shoot for 18 milligrams per day from lean meats, seafood, beans and dark green vegetables.
Related: The Female Athlete Triad
Running in the cold is bad for your lungs.
We're convinced this myth came from runners themselves. After all, who really wants to leave her warm bed when it's freezing outside? Though brisk weather can be uncomfortable and cause a bit of that burning sensation, your respiratory system warms air by the time it reaches your lungs. Frigid temperatures are not harmful to most runners, says Braun. The exception? Asthmatics, whose symptoms may be triggered by cold air.
TRUTH: A little chill doesn't hurt. However, if the weather outside is truly frightful (we're talking heavy snow or icy trails), why not hop on the treadmill instead?