Do This Type Of Workout During Commercial Breaks
Make the most of your commercial break with one trainer's top moves.
Heading out the door? Read this article on the new Outside+ app available now on iOS devices for members! Download the app.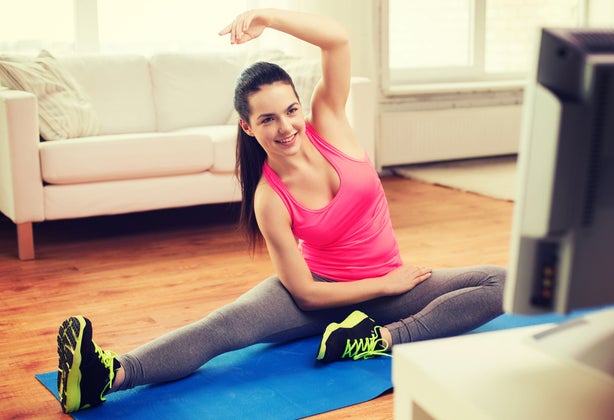 If you find it easier to schedule time for your favorite TV show rather than a workout, we have good news for you—you can multi-task! Commercial break workouts can be the new drinking wine while watching Extreme Weight Loss (don't act like you haven't done it).
We talked to Bedros Keuilian, founder and CEO of Fit Body Boot Camp—the world's fastest growing indoor fitness boot camp franchise—about the best moves to make those agonizing advertisements fly by.
Keuilian suggests you do multiple moves in each break for a full body workout. "The best way to handle your commercial break workout is to treat it like a mini High Intensity Interval Training (HIIT) workout," he advises. HIIT involves doing 30 seconds of high intensity exercise followed by 30 seconds of rest.
"You usually have 3-4 minutes in a break, which gives you enough time for 3-4 moves," he continues. "If you can get in one move each for your arms, legs, and core, you'll get a whole lot done in just that tiny commercial break!"
Keuilian has five moves you can cycle through for a well-rounded, full-body workout:
Burpees:
Start in a standing position and jump down onto your hands and toes (like the beginning of a pushup). From there, walk or jump your feet up to your hands. Then, jump up straight into the air, with your hands above your head.
Mountain Climbers:
Start by getting into a pushup position with your hips slightly raised. Alternate stepping both of your feet to your hands, bringing your knees straightforward in a series of rapid steps, as if you are climbing. Keep stepping for 30 seconds.
V-Ups:
Lie flat on your back with your feet together. Start with your arms straight, flat on the ground, above your head. Then, raise your legs and arms all together and try to have them meet in the air above your body. Lower your limbs, then repeat.
Lateral Raise with Dumbbells:
Stand with your feet shoulder-width apart, dumbbells in hand. Keeping your arms straight, raise the dumbbells out to your sides until they reach about forehead level and then lower them. Repeat.
Squats:
Start by standing straight with your feet shoulder-width apart and your hands on your thighs or straight in front of you. Then, lower your body as if you were sitting in a chair, going down as far as you can. Slowly raise yourself back up repeat.
"For those of you just starting out I recommend you do your commercial break workout 3-4 times a week—it's a great idea to fit some exercise into your TV time as often as you can," explains Keuilian. "Exercising during commercial breaks can keep your mind and body fresh and help you avoid that uncomfortable hazy feeling that comes with too much sitting."
Read More:
5 TV Shows To Binge Watch On The Treadmill
High Intensity Interval Training (HIIT) Workout