3 Things I Do Every Day To Remain A Healthy Runner
Try these three practices every day to keep your body healthy and happy.
Heading out the door? Read this article on the new Outside+ app available now on iOS devices for members! Download the app.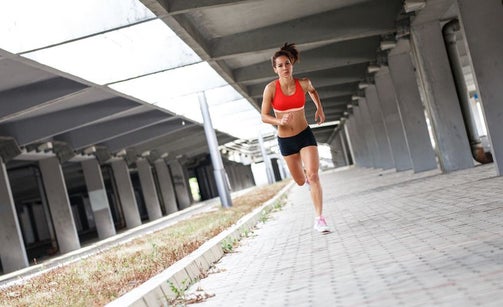 For someone who's not a swimmer, I've spent far too much time in the pool. But there are few other choices when your body cannot run. So, I've begrudgingly taken to the pool with each injury and illness that has come my way.
As much as I've hated these trials, they have undoubtedly made me a more resilient athlete and a more determined woman. I am currently enjoying my longest non-injury streak in more than seven years, and with each passing day of healthy running, I am reminded of the days that were not so enjoyable, the days I strapped a floatation device around my waist and willed my broken body to heal.
Another blessing that has come from my many injuries is greater wisdom and appreciation. I don't take any run for granted. Each morning that I have the privilege of going for a run, I do three things:
1. I stop to be thankful.
Every run—even when it's not enjoyable—is a good run. Even the times when I'm counting the seconds and longing to collapse in a heap, I'm not as miserable as when I'm toiling away in the pool or on a stationary bike. There is an incredible amount of freedom afforded to runners. We have the ability to just get up and go anywhere. Anywhere! Every morning, I take the time to smile and be thankful for that.
2. I check in with injured friends.
Whether it's a stress fracture or a minor muscle pain, having an injury is discouraging, especially when you are isolated. I'll never forget a former teammate of mine who recognized how much I was struggling during my first big injury. She made a point of regularly texting and getting together with me. As I spewed my fear and frustration, she compassionately listened. That's the kind of friend I want to be. It's why I make a habit of checking in with my injured friends to ask about their mental and physical wellbeing. That same gesture has made all the difference for me.
3. I check in with myself.
A runner is never closer to injury then when he or she is the healthiest they've ever been. Why? Because that's when we get lazy. When everything is going well, we tend to cut corners and forget the importance of injury prevention. To avoid that, I make a point of checking in with myself every morning. I take note of any odd tightness or pain as well as any discouragement or frustration I might have. Those quick checks help me to stay on top of any potential injuries. How long is too long to have a weird pain? In college, my teammates and I went by the "three-day rule." If something's been bothering you for three days, chances are it's not going to just go away. Those are the little issues you want to address before they turn into larger injuries.
Any runner can do these three quick things every day before they run. Don't underestimate them—if you're consistently following through in each area, you'll be better equipped to run your best and encourage others to do the same.
Related:
Quick And Easy Injury Prevention Hip Flexor Exercise: Pendulum
The Best Daily Glute Exercises For Injury Prevention