Encourage A Mini Runner With These Easy Steps
If your kids are interesting in running—or you're interested on encouraging them—here are some steps.
Heading out the door? Read this article on the new Outside+ app available now on iOS devices for members! Download the app.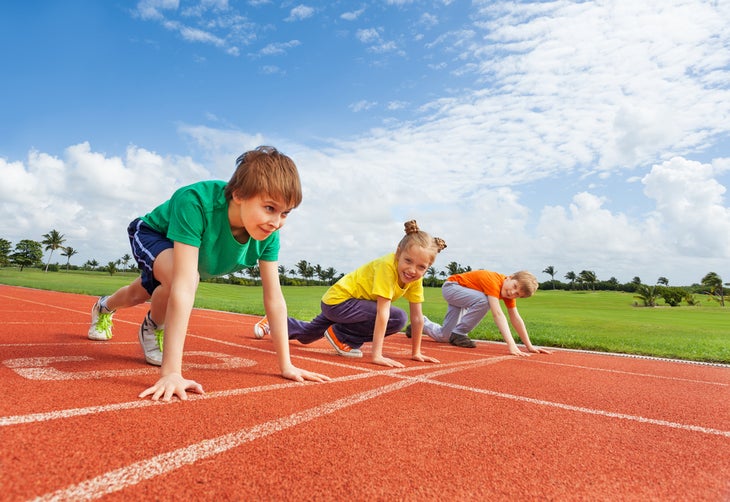 Obsessed? Want a partner in crime? Wondering how to recruit your friends, and even your kids?
How to get people to join in your insanity isn't as easy as it seems. I ran for years, built up my endurance and considered myself a glutton for punishment. Then I signed up for my first race—a half marathon—and had a plan.
Training sucked. It wasn't fun, I felt alone, out of shape, slow and would have never told anyone I was a runner. Honestly, I didn't feel like a runner. I felt like a runner wannabe. Then I ran that 13.1 miles (slowly for sure), crossed the finish line, then went behind a vehicle and threw up. When I stood up, heard the music blaring and felt the energy surrounding me, I looked down at the medal hanging around my neck and realized: I am a runner, and I wanted more.
My 13 kids have grown up with a crazy badass mother runner. I've brought them with me to races. They have learned how to crew me from a stroller to a bike, and 11 of them have run at least a 5K. The rule is that they have to volunteer for one out of every run I pay for. They can create an aid station that would bring tears to your eyes and are exemplary at cheering and holding signs. They usually volunteer at two aid stations a year and run two races a year. I try to be the one holding the signs and screaming like a freaking maniac at least once a year. I love watching them cross the finish line. As they've gotten older, some have maintained running, and some have not. They know what it's like to cross that finish line, stand on the podium and kick some serious ass. How did I do it? Like this:
Include your kids in your training
I slowed down or biked, so they were always running with me.
Give them control
They mapped out routes based on where their bus drove and took me on many adventures.
Make their race your top priority
I've made sure I didn't enter races so that I could support them.
Keep track of their times
For every race, we use a Sharpie to write their PR on their wrists. Not only does this tactic encourage them to beat their PR, but also it keeps things in perspective. It serves as a reminder that if a race wasn't great, they have run some that are better. When they beat that written time, an outstanding celebration follows.
Help them write training plans
One of my girls runs on the track during recess. She knows that it's 12 times around.
Support them
I encourage them to compete in every other sport they're interested in. Running will be there when they want it again. They know how. It's the lifestyle I wanted to pass down, and I enjoy sharing my love of fitness with them.
Getting your kids to join in on your running insanity may take bribery, blackmail, threats, cajoling, begging, pleading but most of all, it takes your example and the genuine desire to have them involved. Expose them to it, make it seem normal, let them know there are rewards – medals and cupcakes (keep the beer for yourself!). What tactics do you use to convert your kids or others into runners?