Here's How To Spice Up Your Avocado Toast
A dietician puts a spin on this cult breakfast food.
Heading out the door? Read this article on the new Outside+ app available now on iOS devices for members! Download the app.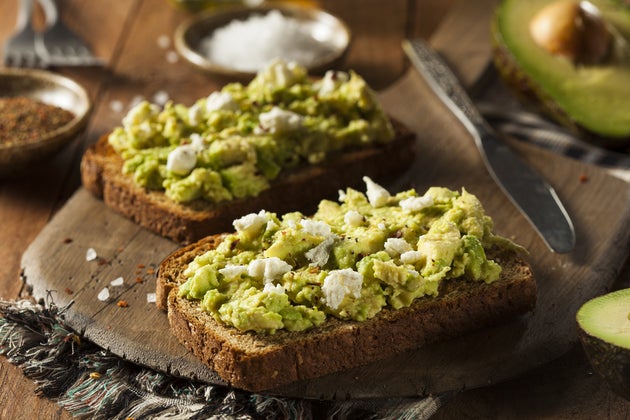 When it comes to breakfast, avocado toast has been all of the rage. The healthy fat on top of whole grains is a great way to supercharge your day.
"Avocado is an excellent way to add variety and essential nutrients to your diet," agrees Brandice Lardner, a NASM-certified personal trainer and nutrition coach with One by One Nutrition. "Often thought of as a vegetable, avocado is actually classified as a fruit and belongs to the berry family. Some of its best attributes are heart healthy mono and polyunsaturated fats that have been found to reduce blood cholesterol which can decrease the risk for heart disease."
When we hear the word 'fat' we immediately have a negative connotation of the word. But Lardner stresses that some fats are good and that you should change your way of thinking. She states that they help you stay satisfied between meals, by keeping blood sugar stable as they slow down digestion.
"Avocado toast is an easy way to pack in lots of nutrition in a little bit of time," Lardner adds. "Because avocado is primarily a fat source, consider using a sprouted grain bread to add a few grams of protein to your meal."
Want to add these other nutrients to your meal? Here are some suggestions from Lardner:
To add some protein power to your avocado toast, top a schmear of mashed avocado with a sprinkle of feta cheese, turkey slices, freshly ground pepper and a sprinkle of sea salt.
To add extra vitamins to your avocado toast, caprese avocado toast is a quick and easy take on a gourmet Italian classic. Top your mashed avocado toast with thinly sliced fresh mozzarella, sliced vine ripe tomatoes, fresh basil leaves freshly ground pepper and a sprinkle of sea salt. The tomatoes will give you an extra boost Vitamin A, Vitamin C and Lycopne, an antioxidant associated with numerous health benefits including the prevention of diabetes, age-related macular degeneration and cataracts, heart disease and premature aging of the skin.
To add some protein and green power to your avocado toast, top mashed avocado with an over easy egg and a light salad of arugula tossed with a squeeze of lemon and a drizzle of olive oil. Finish it off with some freshly ground pepper and a sprinkle of sea salt. The addition of the egg adds 6 grams of protein to your meal! Arugula is a fun way to get your greens and add a little bite to your breakfast.
What are you favorite avocado toast add-ons? Tweet @WomensRunning and One by One Nutrition founder @GeorgieFearRD and share!
Read More:
Four Ways To Use Avocado
This Unique Toast Recipe Is A Good Lunch