Follow These 5 Steps If You Want To Run To Brunch
Go from working out to dining out faster than you can say "mimosa." We have laid out all of the streps you need to run to brunch.
Heading out the door? Read this article on the new Outside+ app available now on iOS devices for members! Download the app.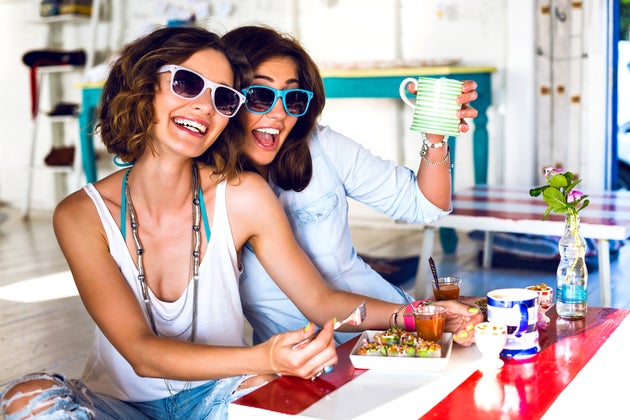 It's Saturday night, and your phone buzzes with a text message: "U up for brunch tomorrow? 10 AM."
What a ridiculous question. Of course you're up for brunch. The only thing is you have a long run planned. After a little quick math, you figure you can probably pull it off if you wake up earlier, run on a trail near the restaurant and do a quick change in your car.
"Going from working out to eating out can be done without sacrificing style," says Holly Drakulic, hair and makeup artist for LifeSpa, the salon branch of Life Time Fitness. Drakulic, who has styled fit celebs, like Julianne Hough and Josh Duhamel, knows it's possible to go from post-run to presentable, even when you don't have access to a shower. Go from run to brunch looking (and smelling!) civilized with these easy steps.
Step #1
Make a plan. The night before, assemble your post-run needs (clothes, wipes, makeup, hair products) in a "go bag." A duffel bag full of pockets makes organization easy. Plus, you won't waste a second blindly rummaging for your brush.
Step #2
Take a wet-wipe shower. Stay away from baby wipes, which may not have enough power to remove your post-run "aroma." Action Wipes ($1 per wipe, actionwipes.com) are individually wrapped, extra-large body wipes with refreshing eucalyptus oil to break through salt and sweat with ease.
Use a more delicate formula to clean your face. Drakulic suggests starting with Murad Clarifying Wipes, then using a hydrating facial spray (see "Into the Mist" below). If a post-run flush overstays its welcome, tone down the redness using a calming cream with a neutralizing green tint.
Into The Mist
As you run, your pores open to release sweat, which also releases oil and bacteria onto your skin. Using a toner after washing your face can remove lingering gunk. Pick one that's right for your skin type to avoid irritation:
Step #3
Work those waves. A dry shampoo is a lifesaver for long hair. "It's a great way to clean your hair, remove odors and create body and lift."
After you spritz, comb through strands and then create the perfect tousled updo: Sweep hair to one side and loosely braid. Gently go through sections of the braid and pull apart a bit to create a messy-chic look. Twist the braid into a bun at the nape of the neck and secure with bobby pins.
For shorter hair, create a beachy vibe by scrunching mousse from scalp to ends and top with a wide headband.
Step #4
Get glowing. Skip the heavy foundation and use a BB cream to showcase your radiance. This multitasking product hydrates, evens out skin tone and provides a broad-spectrum SPF. Look for a lightweight formula, which will keep breakouts at bay. We like L'Oréal Studio Secrets Magic BB Cream ($11, drugstore.com).
Drakulic suggests keeping a "soft and natural" theme going with simple makeup: Sweep a light layer of your favorite bronzer along your cheekbone. Then use an earth-tone eye shadow and mascara to give your eyes a nice pop. The final touch is a luscious lip. Nars Velvet Gloss Lip Pencil is the perfect all-in-one ($25, sephora.com).
Step #5
Order that mimosa! Heck, make it two. You've earned it!