The Importance Of Protecting Your Eyes On The Run
From wearing sunglasses to choosing sunscreens and makeups that aren't oil-based, here are our tips for how to protect your eyes.
Heading out the door? Read this article on the new Outside+ app available now on iOS devices for members! Download the app.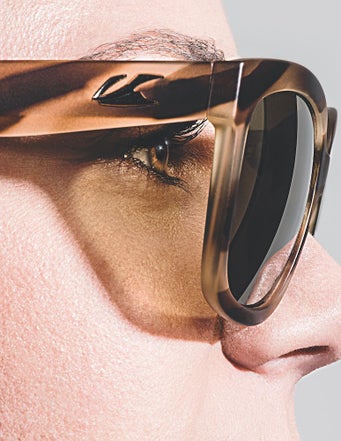 Most runners invest a lot of time and energy protecting their muscles and joints from the rigors of their favorite pastime, but how much thought do you give to protecting your eyes? Wearing sunglasses is probably the most obvious way to enhance your vision. But you may need to pay more attention to that sunscreen and makeup dripping into your eyes, too.
Related: These Two Sunglasses Will Inspire Plenty Of Double Takes
Sunglasses Are a Must
There are some very practical reasons why you should don a pair of your favorite shades—they help keep dirt, dust and pollen out of your eyes, which is always helpful no matter your distance. Sunglasses also protect your eyes from harmful UVB and UVA rays, and they prevent you from squinting and scrunching up your face, which creates extra tension and also uses precious energy.
In his book Meb for Mortals, the superhero runner everyone roots for, Meb Keflezighi, confessed his additional reason to cover his eyes: "I usually wear sunglasses in a race if it's a sunny day. This is not because of the sun but to help keep my head at the right level," he wrote. "If you're wearing sunglasses, when you lower your head, they'll start to slide down your nose. When that happens, it's a cue to return your head to a level position, looking 20 to 30 meters down the road."
There are plenty of affordable, stylish and high-tech sunglasses made just for runners on the market. To help decipher which pair may be best for you, follow these shopping tips:
Since UV rays can hit the eye from all angles, you may want a pair that fully covers or wraps around your face to get the most protection.
Polarized lenses cut down on glare and may be particularly helpful if you run near water or sand (or snow!).
Darker does not necessarily mean better. Some lighter-colored lenses will improve your vision by providing greater contrast and offer the same UV protection as darker ones.
What color and tint you need depends on when and where you plan to wear them the most.
In humid and rainy conditions or when you will be working up a sweat (read: always), choose frames that offer good ventilation to keep your lenses from fogging up. Any pair that holds the lenses away from the face—so air can circulate freely—will do the trick, or you can consider anti-fog coatings.
Make sure the pair you choose are approved specifically for running and are lightweight and anti-bounce. Most pairs designed with runners in mind utilize special materials that don't add weight, just comfort, and remain in place no matter your pace.
The Sweat Test
Depending on your perspiration level, you may or may not find that you need to deal with sweat getting in your eyes. If you do, then makeup and sunscreen may be dripping into them too. The best choices for products are ones that perform double duty and are water-based, not oil-based, to avoid clogging pores that need to sweat.
BB and CC creams with tinted moisturizers provide lightweight, sheer coverage. Try Almay Smart Shade CC Cream Complexion Corrector SPF 35 or Bare Minerals Complexion Rescue Tinted Hydrating Gel Cream SPF 30.
Around your eyes, waterproof options are a must. Try Stila Stay All Day Waterproof Liquid Eyeliner and Too Faced Better Than Sex Mascara.
Pro Tip #1
Optometrists have ultrasonic cleaners, which use sound waves to vibrate the water to powerfully wash away even the smallest amounts of dirt and grease. If your local optometrist is a Maui Jim or Zeal retailer, they will clean your sunglasses free of charge and even tighten them up, so you leave feeling as though you have a brand-new pair!
Pro Tip #2
Your shirt is not the best way to clean your specs—always use the provided microfiber cloth to keep them clean and clear.
Related:
6 Pairs Of Sunglasses For Runners That Won't Break The Bank
One Piece Of Protective Gear Many Runners Forget About