How One Killer Recipe Can Make Three Great Smoothies
Avocados, bananas and almonds—oh my! But wait, there's even more options to make three smoothies out of one recipe.
Heading out the door? Read this article on the new Outside+ app available now on iOS devices for members! Download the app.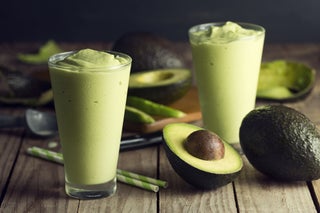 A good smoothie recipe can make all of the difference on a hot and sticky summer day. What you may not know is that certain ingredients are best for reaching goals, such as overall health, meal replacement, post-workout recovery—and even hydration.
If you are getting tired of chugging water or the go-to electrolyte flavor, you can add a hydration smoothie into your routine to get some added fluids, along with bonus refreshment and flavor. This is perfect for breakfast or a snack after you've been on the roads or trails in the hot sun.
We talked to Lauren Marek, a registered dietician at the University of Colorado Anschutz Health and Wellness Center, who shared a basic summer smoothie recipe sure to keep you hydrated, and two ways to change it up to add some variety and options to this refreshing drink.
The Recipe: Hydration Smoothie
1 cup almond milk
1/4 cup almonds, blanched
5 Tablespoons avocado
1/2 medium banana
1/4 cup ice
This smoothie combines many ingredients known for their hydrating properties. "My thought with hydration is always electrolytes and fluids," explains Marek. "Both avocado and banana are high in potassium, an electrolyte used to maintain fluid balance—which is very important for hydration, especially in the summertime."
With the addition of almond milk, also a good source of potassium and fluids, this smoothie is sure to keep your fluids in balance. Adding avocado keeps the smoothie creamy, and Marek notes that it also adds a good source of healthy and satiety-provoking monounsaturated fats.
Can this smoothie be any more perfect for the summer? Yes! "Avocado, almonds and bananas are rich in antioxidants, which are protective against skin sun damage," adds Marek.
Change it up: Make it sweet and spicy.
To kick up the flavor of this hydration smoothie, Marek suggests adding cinnamon, which will add additional antioxidants and help with blood sugar control.
Another way to boost the sweetness or spice would be to play around with extracts. "Extracts are a fun, low-calorie way to mix up the flavor in shakes," shares Marek. "If you are interested in trying it, I would use coconut extract in this shake."
Change it up: Add carbs.
If you make this basic hydration smoothie, it is important to note it is low in carbs. If you want to up the carbs as a play on the original, try some oats. "An option would be to throw in 1/4 cups of dry, old-fashioned oats," advises Marek. "This will not only add texture, but add fiber to the recipe."
If you want to change up the flavor, substitute 3 fresh or frozen apricots instead of using half of a medium banana.