How Does KT Tape Help Runners Recover?
You see runners wearing the funky tape at races and on runs, but what does it actually do?
Heading out the door? Read this article on the new Outside+ app available now on iOS devices for members! Download the app.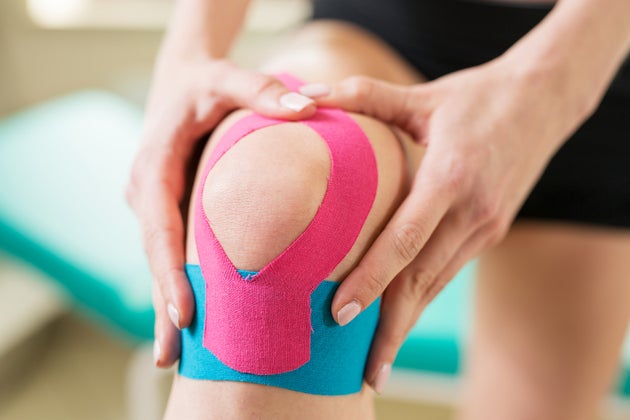 *Courtesy of RunHaven
At some point in your life, you may see athletes with colorful strips of tape stuck to different parts of their body, like the stripes on a tiger. They might be placed around knees or ankles if they are a runner, or you might see them placed on other areas, like shoulders and backs. Don't fret — they aren't mummies. They're athletes who've discovered the many benefits of KT Tape.
The strips of tape come in many colors and styles, making them decorative to wear. But they most definitely do something beyond attracting attention — they provide external support to muscles, ligaments and tendons, helping you remain active while recovering from injuries.
"KT Tape is lightweight, comfortable to wear, and can be used for hundreds of common injuries, such as lower back pain, knee pain, shin splints, carpal tunnel syndrome and tennis elbow — just to name a few," said Kelly Lewis, runner and director of marketing at KT Tape.
"It provides support and pain relief and gives you the flexibility that you don't get with other products — you can wear it all the time," Lewis said.
The two types of KT Tape are KT Tape Cotton and KT Tape Pro. The main difference is in the material.
KT Tape Cotton: "Our original tape is a cotton material and is what most kinesiology brands use to make their tape," Lewis said. "It provides the same results, it just doesn't last as long — about 1-3 days."
KT Tape Pro: "The Pro is made out of synthetic material, so it lasts longer — about 3-7 days," said Lewis. "I often have to take off my tape before it's worn out. It depends on your skin, oily or dry, and the environment you're in — like humid conditions."
For runners, Lewis recommends using KT Tape for full knee support (runner's knee), shin splints, ankle and IT outer knee application. Their instruction page provides detailed videos that explain how to apply the product to each body part.
Make sure you keep an eye on their website and look for them at race expos — the only two places where they release their limited-edition tapes in some pretty cool patterns
For more information or samples, contact: support@kttape.com 
Read More: 
The 'Jewelry' That Could Save Your Life
Give Yourself A Break During The Holidays
5 Exercise Hacks To Make It Through The Holidays
6 Training Mistakes That Lead To Weight Gain
Cheap Therapy: DIY Recovery & PT Tools