This Baked Ziti Recipe Will Help You Recharge Like a Champ
Nutritious and delicious weeknight meals can be the norm—this baked ziti with feta cooks up in 30 minutes with minimal prep.
Heading out the door? Read this article on the new Outside+ app available now on iOS devices for members! Download the app.
Runners have long turned to pasta as a go-to to fuel their athletic pursuits. And good news for you pasta lovers: Research published in Frontiers in Nutrition revealed that pasta consumption in both children and adults is associated with a better diet quality overall, including greater intakes of a handful of common short-fall nutrients including fiber, magnesium, and iron.
One reason why is that noodles of all shapes can be a delicious delivery system for other healthy foods, like veggies. This oven-baked ziti pasta dish isn't shy about adding a splash of vegetable color and calls for whole-grain noodles to up the nutritional ante. (Compared with refined grains like white pasta, science shows that whole grains are a better choice for heart health.)
Adding a generous amount of feta makes this Mediterranean-inspired pasta recipe an even better option to recover optimally from a hard-fought workout. A recent study in the Journal of Nutrition discovered that cheese was just as effective at stimulating muscle protein synthesis after a workout as a milk protein powder. Working in canned tuna helps the dish go even bigger on protein.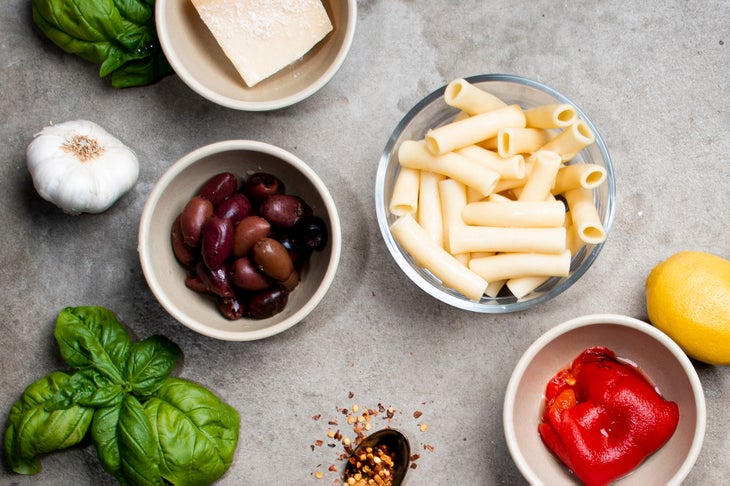 This big pan of baked ziti coated in feta pepper sauce just might be the perfect fix for when you're craving comfort food and need to help your body recover from a long run. It's also a strong candidate for a make-ahead meal, making it clutch for busy weeknight dinners. Or prepare it to feed a hungry crowd of your running mates.
RELATED: 10 Easy Pasta Recipes Quick Enough for a Weeknight Dinner
Mediterranean Baked Ziti with Feta
Ziti is a tubed pasta with edges that are cut in a straight line instead of at a slant. If you can't find it, penne is a worthy substitution. If you need the recipe to be gluten-free, you can use one of the many gluten-free pasta options now on the market (we like higher protein chickpea pasta). Consider sourcing your tuna from an ocean-conscious company like Wild Planet or Safe Catch that packs more nutritious, lower contaminant fish into their cans. For a plant-based option, adding in canned cannellini beans is a great alternative. Using frozen spinach offers a concentrated source of this ultra-nutritious green, but just be sure to squeeze out the excess liquid once thawed to prevent the baked dish from being watered down. For leftovers, keep the baked ziti in the refrigerator for up to 5 days. Reheat in the oven or microwave.
Makes 6 Servings
Ingredients
12 ounces whole-grain ziti pasta
1 Tbsp. extra virgin olive oil
6 oz. feta cheese
1 cup roasted red pepper
2 Tbsp. tomato paste
2 garlic cloves
Zest of 1 lemon
2 tsp. Italian seasoning
½ tsp. red pepper flakes
½ tsp. black pepper
2 (5-oz.) cans albacore tuna
1 cup sliced marinated artichoke hearts
½ cup sliced kalamata olives
10 oz. frozen cut spinach, thawed and water pressed out
½ cup sliced fresh basil
Grated Parmesan (optional)
Directions
Preheat oven to 375°F. Grease a 9- × 13-inch baking dish and set aside.
In a large pot of salted boiling water, cook pasta until it is al dente. Don't overcook the pasta because it will cook some more in the oven. Reserve ½ cup of the pasta cooking water. Drain pasta well and return to pot. Stir in olive oil.
Blend together reserved pasta cooking water, feta, roasted red pepper, tomato paste, garlic, lemon zest, Italian seasoning, red pepper flakes, and black pepper until almost smooth.
Toss together pasta, tuna chunks, artichokes, olives, and spinach. Stir in feta sauce.
Bake for 25 to 30 minutes, until mostly set. Remove from the oven and let sit for 5 minutes. Serve garnished with fresh basil and, if desired, parmesan.