This Smart Water Bottle Will Change How You Hydrate
This water bottle is hitting the market in 2016 and we can't wait for what it means for hydration.
Heading out the door? Read this article on the new Outside+ app available now on iOS devices for members! Download the app.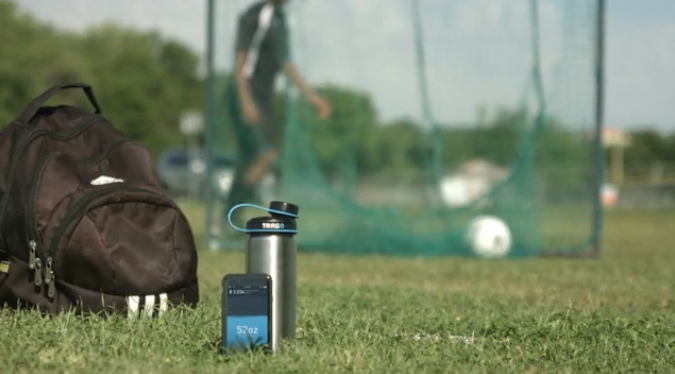 Technology is making everything 'smarter' these days, and though you may think you don't need a water bottle with tracking capability, you really, really do.
Specifically, you need Trago. Available for pre-order now (ships in Spring 2016), the Trago team is hard at work on the product after it raised $75,277 on Kickstarter. So what is so great about this water bottle? It's all in the cap (and app).
The Trago cap pairs with a free app to track your hydration throughout the day, while taking into account your activity and the weather. So, for example, if you are running 5 miles on a 95-degree day, the app will sync with your activity tracking (from Garmin, to RunKeeper, to Fitbit and more) and adjust the amount of water you need for proper recovery accordingly. You will have all of that information in the app, and then as you drink, the cap tracks how much water you are consuming to help you reach your hydration goals.
"You can drink too much—or too little—and we are bringing modern science to help you dial in a personalized amount for you—and then keep you on track to hit your daily goals," shares Trago CEO Jac Saltzgiver. "It's not just about drinking more water, or 8 glasses a day—there is a better, more personalized way to think about hydration."
Saltzgiver believes that personalized hydration is the new Gatorade, and this belief makes perfect sense for a company whose Chief Scientist is Dr. Mark Kovacs, the former Director of the Gatorade Sports Science Institute.
As if this water bottle wasn't custom enough for users, the Trago cap will fit any wide-mouth water bottle. It is bringing a truly personal hydration schedule to your training and life.
Read More About Hydration:
Belt, Bottle Or Vest—Which Hydration System Is For You? 
5 Ways To Drink More Water