The Garmin Fēnix 3 Sapphire Is The Watch That Does It All
No matter what sport you do, this watch probably has a feature to track it. This Garmin is a runner's dream piece of training gear.
Heading out the door? Read this article on the new Outside+ app available now on iOS devices for members! Download the app.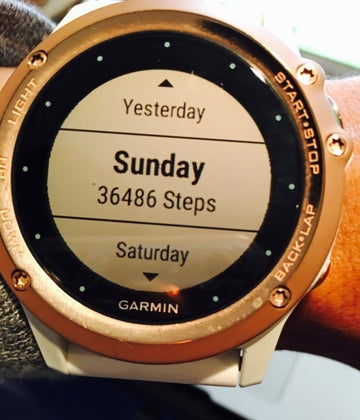 "You have your watch on!"
For the past year, that is the phrase most shouted to me as I entered a pool. I also get, "Wow, that's a big watch!" and "Is that an Apple watch? No—what is that?" Well, I'll tell you. It's the Garmin fēnix 3 Sapphire and it's not only gorgeous, but it is also completely waterproof and the fitness watch of my dreams.
The fēnix 3 Sapphire loves a good swim and works overtime when wet. With GPS capabilities for open water swimming as well as distance and average speed, it's the perfect watch for anyone who prefers lakes and oceans to pools. However, if pool swims are your thing, the fēnix excels there too, providing lap count, stroke measurement, time and distance tracking. Want to know what else this stunner can do? Let me count the ways…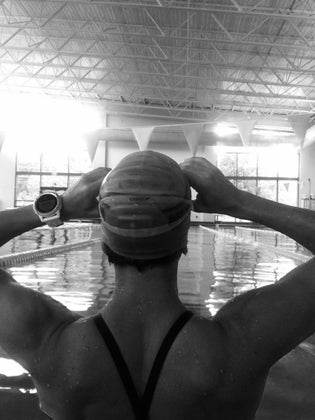 I have had my Garmin fēnix 3 Sapphire for over a year now and I absolutely love it. It has all the bells and whistles for runners (GPS, pace, distance, time, cadence and stride length) and it even has a "track back" feature that allows you navigate back to your starting point, should you wander off.
With smart notifications—compatible with most smartphones—you can receive e-mails, text messages and be alerted to phone calls (and either accept or decline them from the watch itself). You can't actually respond to texts and e-mails or talk into the watch but, at least you know if the alert is something that needs immediate attention.
In addition to all that, the fēnix 3 Sapphire has apps for 15 different activities including trail running, SUP, climbing, cross country skiing, downhill skiing/snowboarding and hiking! There is a step counter that sets daily goals according to your average movement, reminders to move and even the weather report and an altimeter, you know, in case you need to pilot a plane. There is also a sleep tracking option which provides feedback on deep R.E.M sleep, wake time and if you need to get more of it. It doesn't serve you coffee yet, but I'm sure the people at Garmin are working on it.
The fēnix 3 Sapphire is a perfect watch for triathletes (with an option to track races complete with transition times), serious runners who cross-train, hikers, trail runners or any combination.
It has a hefty price tag ($599) but, considering how much this watch can do, it's completely justifiable. However, if that's a little too much for your budget, consider asking about the Garmin upgrade program where you can trade in your old Garmin for 20 percent off the new one. I did exactly that and the process was simple, plus, Garmin sent me the fēnix before I even sent back my vívoactive. Now that's service!
My fēnix 3 Sapphire does not have the built-in heart rate monitor but it is compatible with the Garmin heart-rate monitor and chest strap I have had for years. You can also purchase a shoe pod for indoor/treadmill running and attachments for your bike to track indoor rides on a bike trainer.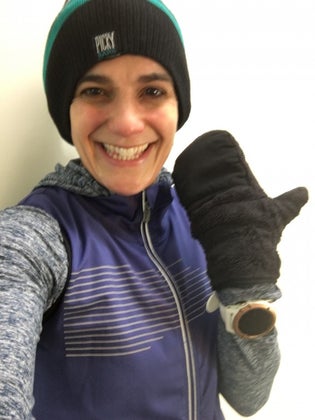 The fēnix 3 Sapphire syncs wirelessly to my TrainingPeaks online workout log so both my coach and I can see the data of any given workout, as soon as it's completed. It also links to Garmin Connect and the Connect IQ store where you can customize your watch with tons of free downloads.
The battery life is amazing and, depending on my activity—which averages 10 hours a week of swimming, cycling and running—I charge it about once every 10 days.
The watch is definitely big for the average female (and I am well below average at 5' 1") but it's so stylish I find myself wearing it for all occasions. The only downside to all the notifications is that I'm constantly looking at it and it can come across as pretty rude! That said, after owning at least six Garmin watches in the 15 years I have been running and racing, it's my most used piece of training equipment and I feel lost without it. Which reminds me, it also has a compass.