Brooks Brand New Levitate Shoe Is Elevating Our Run
Heading out the door? Read this article on the new Outside+ app available now on iOS devices for members! Download the app.

Brooks Levitate Is Bringing Energy Back (Yup)
Based on seven years of Run Signature research, Brooks Running is launching the all new Levitate with DNA AMP—a shoe engineered to provide the most energy return of leading performance running shoes. The springy shoe will be available nationwide starting Sept. 30.
"We're pushing the limits of energy return with the new Brooks Levitate and are excited to unveil a shoe that has been engineered from the ground up to provide runners with an infinitely energetic experience," said Carson Caprara, director of global product line management at Brooks. "The Brooks Levitate features our revolutionary new DNA AMP midsole technology that releases energy straight back to the runner, making the experience so fun they might feel like running forever."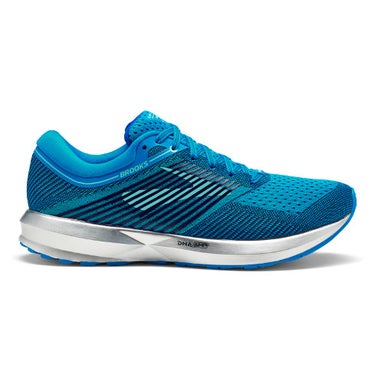 Upon taking the shoe out of the box to test, our editor noticed that it felt heavier than other shoes she's previously tried, but it felt comparable to the Launch, which weighs significantly less, on the run. Interesting dynamic when it comes to running shoes.
Related: 14 Best Running Shoes From Spring 2017
Bennett Grimes, footwear product line manager at Brooks, explained they wanted to "create an amplified Energize experience that would have universal appeal with runners which is why we started from scratch to develop a running shoe that optimizes energy return. To deliver this experience, we engineered [the technology], which is an PU (polyurethane) system with incredibly high energy return. While [it] makes the Brooks Levitate slightly heavier than other shoes in our line, we believe the additional weight is worthwhile and provides runners with the most energy return of leading performance running shoes."
The Levitate is the first to feature this brand-new technology from the Seattle-based brand. The PU foam naturally expands, returning energy to the runner as it hits the ground and expands. But, in order to deliver an amplified experience, Brooks encased the foam in a thermoplastic polyurethane (TPU) skin that resists horizontal expansion—thus giving more energy back upward into your beautiful running body. Plus, we just really love how the shoe looks!
Related: Runner's Ode To Her Favorite Running Shoes
The Fit Knit upper part of the shoe only adds to the comfort and echoes the moves many brands have made and are making into the "knit" uppers on their most popular sneaks. Brooks specifically utilizes a circular knit process, giving more breathability where desired and structure where needed.
And like only Brooks can, they promoted the pre-launch with a shortlist of runners on a fun, unique way, asking them to take on one of the several challenges included in the package. Think: running backwards for one mile, running to a date, or creating an infinity with your running route. Brooks employees promise to match challenges posted on social media. In short, they continue to drive home their famous "Run Happy" slogan.
$150, brooksrunning.com