An Honest User Review Of The Fitbit Blaze
A longtime Fitbit user, our art director was intrigued to try the Fitbit Blaze and see how it compares to its predecessors.
Heading out the door? Read this article on the new Outside+ app available now on iOS devices for members! Download the app.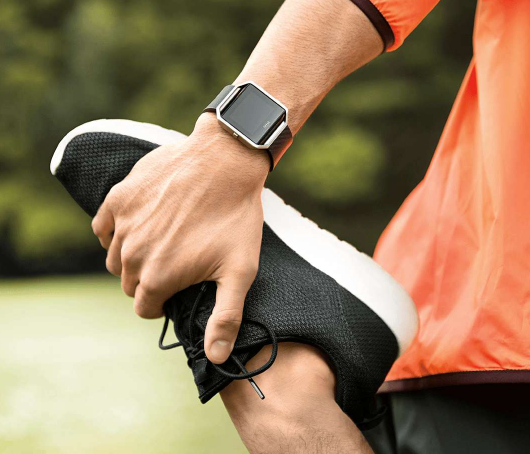 I was intrigued to try the Fitbit Blaze since I have used the Force and the Surge. After first looking at the Blaze, it's definitely more fashionable if you swap the rubber strap to a faux leather. The tracker has moved away from the ill-fitting black plastic bands (that never stayed shut anyway) to a strap that buckles—hooray! It has four different watch faces, which are in full color and easier to read than previous watches. The Blaze definitely has a sleeker look than previous models and is more lightweight. However, despite its lightness, the entire screen engulfs my small wrist. If you're into the look of a large watch face, this is the tracker for you (I personally think this would fit a man's wrist better). It's definitely not uncomfortable to wear, despite the larger face, but I couldn't sleep with it on, so I never got to take advantage the sleep tracking feature.
Related: A Day In The Life Of A Fitbit User
Like its predecessors, the Blaze counts your steps, monitors heart rate, tracks your daily activity and gauges how well you're sleeping. However, it has a few new smart features: it receives texts and shows incoming calls and calendar reminders. It can also control music playback on your phone. I have to say—I missed the little reminders my other watch gave me when I wasn't standing enough. For people who sit in front of a computer all day for work, that reminder is so key. However, the Blaze does offer something that other models do not: FitStar exercise tutorials. Basically, they are simple warm-ups or workouts suited for 7- or 10-min intervals with GIF-like animation that leads you through the motions. I wasn't totally blown away, but it's great for beginner users. Another new Blaze feature is its display module can pop backward out of the frame to charge! A full charge lasts five to seven days, which is good because I felt like I was going to break the module when forcing it back into the frame!
While the Blaze offers a more affordable option that gives a lot of the same features at the Surge, the latter has a black-and-white screen and a built-in GPS, whereas the Blaze needs to sync with your phone to track your runs. It's fine if you are like most runners and carry your phone everywhere. And as I found out quickly while washing the dog, while water-resistant, it's not completely waterproof. I don't know about you, but with a $200 price tag, I want the option of showering with it on after the gym.
Related: Fitbit Unveils Its New Blaze Smartwatch
The Blaze's touchscreen display is slightly more than one inch, allowing you to swipe through options, as we live in a swiping world. There are three buttons on the display: the left is a back key, while the two on the right are used for selecting options mid-workout. I really like the swipe feature on the Blaze, however it does seem easy to accidentally pause a workout while in motion (something I totally did). Needless to say, it was very frustrating to work out for an hour only to see the watch paused by minute six. Another caveat is even though the Blaze is designed to automatically recognize when your exercising, it won't kick in until you've exercised for at least 10 minutes; that is the fastest time frame you can set up. So, best bet is to manually start a workout if you want the most accurate data instead of using the automatic option. In addition, the heart-rate monitor cannot be paired with a chest strap monitor, so I wasn't sure how accurate that read would be.
Related: Fitbit's New Tracker Is Seriously Gorgeous
Like all Fitbits, the Blaze is set up through the Fitbit app and regularly syncs over Bluetooth to keep your app updated. It allows you to add up to seven different exercises on your menu, however all these changes must be done at the Fitbit official site and not on your phone app.
Overall, I really liked the new look and style features of the Blaze. The new watch band is a super plus for me, along with the swiping features. If you want a watch that does fitness and doesn't look like a weird fitness tracker, this is probably the perfect bit of fit for you.