Runner-Tested Dry Shampoos that Really Cut the Grease
There are tons of options out there. Here are ones that actually work.
Heading out the door? Read this article on the new Outside+ app available now on iOS devices for members! Download the app.
Dry shampoos can be a lifesaver to refresh oily or sweaty hair after a workout (or to cover up second-day hair!). Yet with a zillion options out there, it's hard to find one that's not too powdery, sticky, or weird smelling and that really works. Check out these reader-recommended and editor-tested options to find the right one for you.
The Best Ways to Use Dry Shampoo After a Run
Sometimes finding time for a run itself is tough, let alone a shower after. Mara Roszak, a stylist and Authentic Advocate for  Authentic Beauty Concept, shared some tips for using dry shampoo. She says, "Often a shower after a run is necessary, but washing hair isn't always needed. This is a perfect opportunity for a quick refresh with dry shampoo." For the best application results, Roszak says to flip head upside down and spray throughout, keeping the bottle at arm's distance away. Once you flip your hair back, run hands through hair, and focus on "jeujing the roots." Post-run, when locks might drench in sweat, she suggests waiting for hair to dry a bit before applying dry shampoo. She shares, "If you can, blot roots with a towel to remove excess moisture before, before applying." The only thing left to do is to grab your brush or comb and style as needed. Here are 12 of the best dry shampoo options to choose from to get the best results for your locks.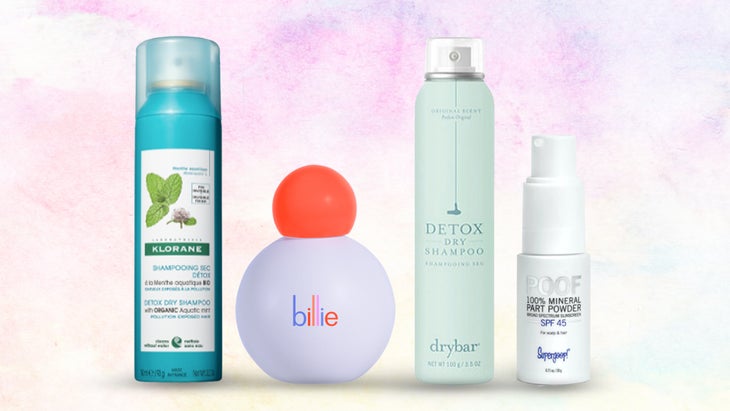 Klorane Detox Dry Shampoo | $20
This brand new detox spray is made especially for post-workouts and helps to cool down your scalp. Use for an immediate crisp, refreshing, and protected feeling, enhanced by the minty smell. Great for all hair types.
Billie Floof Dry Shampoo | $14
Get a lift with your clean scalp. For two shades, light and dark, Billie's new Floof dry shampoo, removes oil and volumizes. This gentler formula also contains biotin to help strands become smoother and plumper.
Drybar Detox Dry Shampoo | $23
If you have ever been lucky enough to visit a Drybar salon, you know the distinct smell, and this spray has the same yummy scent with notes of violet and sandalwood. It also contains rice powder to soak up oils and add volume to roots. Even if you go on a few runs, this product will help a great blow out last longer.
Supergoop Poof Part Powder | $34
For outdoor runners who don't like to run in a hat, this translucent powder contains SPF 45, so it will protect your scalp as it absorbs moisture. Sprays on light to keep your hair bouncy and flexible.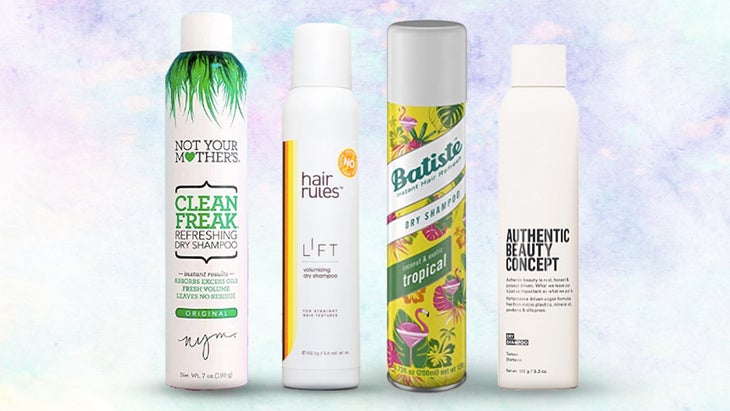 Not Your Mother's Clean Freak Dry Shampoo, 2-Pack | $9.20
This shampoo has a pleasant scent and leaves a dry feeling on the hair. Warning, it does apply on white, but don't let that scare you since it blends in quickly as you brush.
Hair Rules Lift Volumizing Dry Shampoo | $19.99
Even on your laziest days, this spray with vitamin E, a natural antioxidant that supports a healthy scalp, and wheat protein, which repairs hair and prevents moisture loss, will revitalize and restore your hair.
Batiste
Tropical Fragrance
Dry Shampoo, 3-Pack | $14.45
Stock up on this tropical-scented spray in a retro-looking can at an excellent value. You can leave one at home, one in your gym bag, one at work, or even one in your car. This spray absorbs oil and doesn't leave that gritty feeling in hair. It might leave a tad of a white residue, so it's ideal for light hair shades.
Authentic Beauty Concept Dry Shampoo | $25
If a straightener or curling iron is part of your post-run routine, this spray is the way to go. Part dry shampoo part styling product, this will protect your hair up to 450 degrees and help mold locks as you style. Great for pulling back hair since it goes on clear so roots won't be white.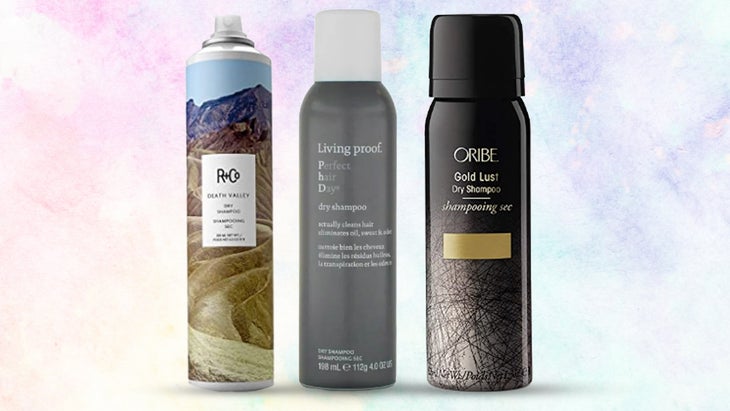 R+Co Death Valley Dry Shampoo | $32
Anyone with dry hair should try this excellent-smelling dry shampoo. It will add body to your hair, but won't absorb too much oil, leaving your hair softer. Made with nourishing and moisturizing ingredients, this makes styling your hair post-workout a breeze.
Living Proof Perfect Hair Day Dry Shampoo | $14.39
Curly gals live for this major volumizing spray since it will help restore their mane's natural shape. It actually cleans hair, not just covers it up or remove oil. The small size makes it perfect for travel.
Oribe Gold Lust Dry Shampoo | $23
With a name like gold lust, you know this is a luxe choice. But anyone who has ever tried this can vow it's totally worth the price. Women with dry, color-treated hair take note, this helps to strengthen and condition hair.
Briogeo Hair Charcoal + Biotin Dry Shampoo | $24
Using this product is like taking your morning vitamins. Embrace second or third-day hair with this dry shampoo that contains charcoal and biotin. The unique ingredient of charcoal acts as a detox and keeps the scalp healthy, while the super vitamin, biotin, provides nutrients to support healthy hair growth.