6 Pieces Of Gear That Will Keep You Warm All Winter Long
If you are new to cold-weather running, here are some essentials that will keep you warm even through the coldest winter months.
Heading out the door? Read this article on the new Outside+ app available now on iOS devices for members! Download the app.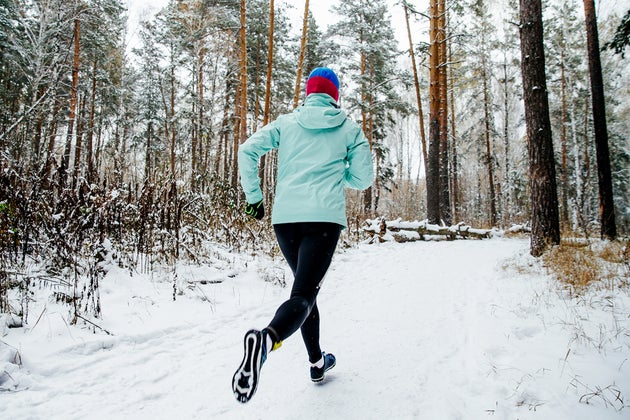 Running outdoors during the cold weather months can be a fun challenge. The roads are less crowded creating a serenity that can only be found in the quiet days of winter. Plus, getting outdoors during the short days of winter can invigorate your mind and body to help prevent the winter blues.
However, if this is the first year you will be running outdoors during the cold weather months, knowing what gear you need can seem overwhelming and a little hard on your wallet.
If you've committed to running outside this year during the cold weather months and are buying winter running gear for the first time, the good news is your gear should last you for several winter seasons. The bad news is that you must invest in a few essential items.
Here are the things you need to have in your closet to ensure you can get outdoors for your runs during the winter.
Waterproof And Wind-Resistant Technical Jacket: This will act as your top layer when it's windy, snowing or below freezing outside. I recommend against purchasing the warmest jacket you can find because it won't be as versatile.
Three-Quarter-Zip Long Sleeve Top: The zipper is the key element in this essential wardrobe piece. Unzip when you warm up or when you've over-dressed. On colder days keep it zipped up to keep your neck warm. It's also easy to layer with your newly purchased running jacket and will often act as your middle layer on colder days.
Running Tights: You are looking for the tights to have a brushed interior material to keep you warm and for them to fit great. Winter running tights last for several seasons. Be sure to make sure any ankle zippers or seams don't rub while trying them.
Basic Fitted Long Sleeve Technical Top: This item will serve as your base layer. Wear it alone, under the three-quarter-zip top and your running jacket, alone under the jacket or just under the three-quarter-zip.
Gloves: If your hands don't get super cold or it's not windy where you run, a simple pair of $3 knit gloves work great for running. Plus, if you lose them they are easy to replace. If your hands are sensitive to cold weather, invest in a pair of convertible gloves that add a wind-blocking hood over fingered gloves.
Hat Or Ear Warmer: An inexpensive knit hat might be all you need to keep warm. An alternative to hats are ear warmers. They keep your ears warm and make styling your ponytail much easier.
Once you've acquired these essentials you're ready to take on winter running. Remember, winter running is an adventure and a good outlook on braving the elements is your most important accessory.