Fun Facts About The 2018 Boston Marathon
The 122nd running of the Boston Marathon takes place on April 16, 2018.
Heading out the door? Read this article on the new Outside+ app available now on iOS devices for members! Download the app.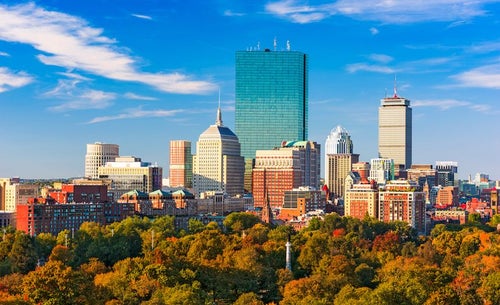 Runners have a thing for lists. We make them for packing, training, food logging and maybe even favorite mantras. In the spirit of runner list love, we offer one more to take with you, should you find yourself in the amazing position of running or cheering at the iconic Boston Marathon!
Here are some fun (and funny) facts about the historic race, as well as some things to consider doing around the city:
The crowd: With an estimated 500,000 spectators, The Boston Globe declared the Boston marathon the "best attended, single-day sporting event" in New England.
The money: Nope, not the purse money winners of the event take home (a total of $48,500) but the money you, your friends and family members are expected to spend. This year, spending totals are estimated to reach $192 million around town—or about $311 for every Boston resident.
The (non-traditional) mile markers: In its early years, the Boston Marathon posted signs for odd mile markers, such as 19 7/8. The seemingly random points were chosen because they helped race officials easily locate the transportation they needed to get from one checkpoint to the next.
The winner with the best name: Ronald MacDonald, a Canadian student at Boston College, won the race way back in 1898. Little did he know that a name almost identical to his own would go on to become more famous in America than the Boston Marathon itself.
The course: According to The Boston Globe, "marathon organizers once considered a course that would roughly follow Paul Revere's famous ride, but abandoned the idea in part because of traffic issues in Cambridge and Arlington." But would it have been less hilly?
The home team: Home of the Boston Red Sox, runners pass the iconic Fenway Park in the final miles of the marathon. A game will coincide with the race, letting the crowd out in time to cheer on the runners. Check out the Red Sox schedule and consider taking in a game to see the famous Green Monster before or after race day.
The (other) city tour: Save your feet for race day or be kind to them afterward with a local tour of the city either by boat or bus.
The celebration: Home to one of the most famous lagers synonymous with running, belly up to the bar and order a Sam Adams (or tour the factory) where it originated. The folks there know how to treat marathoners right and brew up a special Boston 26.2 Brew for the occasion, sold at pubs and restaurants around town all week long. You can even buy the commemorative pint glass to go along with your finisher's medal.
Related:
Elites To Watch As We Approach The 2018 Boston Marathon
Women's Running To Present The Boston Marathon Seminar Series