Tatyana McFadden Reflects On Fast Fourth-Place Finish In Boston
Here's what Tatyana McFadden had to say at the post-race press conference—and a look at what is to come for her the rest of the year.
Heading out the door? Read this article on the new Outside+ app available now on iOS devices for members! Download the app.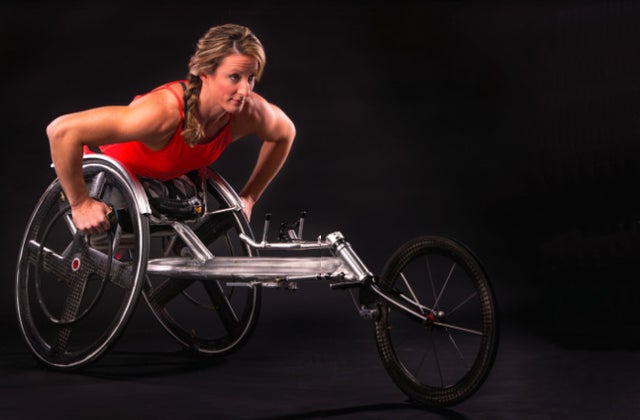 The good news was that Tatyana McFadden finished the Boston Marathon women's push-rim wheelchair division in a sizzling 1:35.05. The not-so-good news was that three competitors finished even faster, including winner Manuela Schar of Switzerland (1:28.17).
Afterward, McFadden reflected on what ended up being the fastest women's race in history—so fast that the first four times all exceeded McFadden's past Marathon-winning time of 1:35.06.
"The race was definitely fast," she said at the post-race press conference on Patriots' Day. "I knew from the beginning that it would be really, really tough … I wanted to get through and catch the pack. Not this year."
McFadden had won every Boston Marathon since the tragic bombings year of 2013.
RELATED: Tatyana McFadden Chasing Her Fifth Consecutive Boston Marathon Title
This year, she said, "I definitely felt strong. I was satisfied with the increase of training." And, she noted, "I was two minutes behind the second and third-place finishers [Amanda McGrory and Susannah Scaroni, both of Illinois]. I'm definitely proud. Everything can go up from here."
There were some difficulties for McFadden going into the 2017 race. This year, she has battled blood clots that had her hospitalized as recently as two weeks ago.
"The doctor said, 'Do you really want to compete?'" McFadden recalled. But, she said, "Many athletes have [blood clot issues]. Once I'm clear, who knows what I can do?"
McFadden ended up doing quite well on Marathon Monday, even if she didn't finish on the podium. In eighth place at the 5K mark, she closed to fourth at the 10K point behind Schar, McGrory and Scaroni.
"I was definitely really hopeful," McFadden said. "At Heartbreak Hill, I could see my two teammates on top of the hill. I kept a good, conservative speed for myself."
She also adjusted her expectations. "Today is not about winning," she said. "I would try to finish. I've been in training for what I did.
"I had two hospital visits two weeks ago [Monday]. I'm happy with the PR, being able to hit the climbs hard, not falling too far back."
RELATED: Tatyana McFadden Doesn't Accept Anything As A Setback In Life
There was some consolation for McFadden: She did win the Abbott World Marathon Series 10. "I just wanted to win [Series 10]," she said. "It was definitely tough last year with the [Olympic] Games. It was just as tough this year. I'm looking forward to the challenge of another year."
It also sounds like McFadden has more racing in store for this year. Asked whether she plans to compete in the 2017 London Marathon, she said, "I'm still thinking. I think so. It depends on swelling after the [Boston Marathon]."
She said she "definitely" will compete in the summer World Championships in track and in fall marathons. And she sounded satisfied—relatively speaking—with her finish in Boston. "I'm pleased with my fourth-place finish," she said. "It was a little bit of a setback. But I'm ready for my next [race]."