3 Out-Of-The-Box Races For Adventurous Runners
An adventurous runner highlights three out-of-the-box races that she aspires to run in her lifetime.
Heading out the door? Read this article on the new Outside+ app available now on iOS devices for members! Download the app.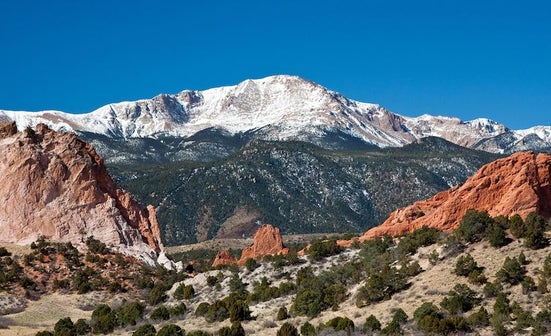 As a Type-A adventurer, I have a whole slew of lists–on Pinterest and on paper–to plan out special moments in my future. I've documented the songs I want to play at my wedding and the gifts I will buy for others. I even have a list of future hiking adventures I want to go on. It makes sense, then, that I have a list of my bucket list races.
This is no ordinary list, as I am no ordinary runner. While it rightfully includes classic events like the Boston and New York City marathons, the list also reflects my thirst to escape suburban finish lines and adventure into more out-of-the-box competitions. Are you curious yet? Here are three races I have my sights set on:
The Pikes Peak Ascent
Ever since my intrepid hike down Pikes Peak as a teenager, I have dreamed of running up (and down) the incredible 14,115-foot mountain. I remember the thrill of hiking through the changing landscape, marveling at the breathtaking views as I weaved down the mountain. I've no doubt that running 13.1 miles up (and another 13.1 miles down if I opt for the full marathon) would be the challenge of a lifetime. That's what intrigues me. What better way to push my body to the absolute limit than ascending so high into the sky?
The Empire State Building Run-Up
When I first read about this race, I was floored (pun intended). Part of me didn't believe there were runners who would opt into such an obscure and painful race. With 86 flights of stairs, I was imagining just how hot and stuffy the building must get. I was also imagining tripping on my face and falling down one of those flights. Despite my skepticism, I couldn't shake my growing interest in the Empire State Building Run-Up. It was crazy, unpredictable and probably bad for my knees. And that's why I loved it! What I lack in passion for running stairs—and beside sweaty strangers—I make up for in my desire to achieve, and this race grants participants that. What accomplishment one must feel when they crest the final step and collapse at the finish line! Sure, your lungs and calves will be burning, but it's less than 20 minutes of pain for an incredible view. Plus, the winner is unofficially dubbed the "World's Fastest Stair Climber." Who wouldn't want that title?
Related: 13 Fun Facts About The Empire State Building Run-Up
The Dipsea
According to its website, the Dipsea Race is the oldest trail race in the United States. What the website won't adequately tell you, however, is how crazy this race really is. Taking a page from the golf handbook, the Dipsea gives handicaps to runners based on age and gender. What results is a 7.5-mile dash that can be won by any man or woman—of any age— tough enough to conquer the terrain. In fact, an 8-year-old girl took the top spot in 2010, becoming the youngest to ever win the race. That is downright inspiring, and I would love to be part of such an empowering event.
I don't know if I'll check off all the races on my bucket list, but I do know I'm thankful that there are so many exciting and challenging competitions to try. These three races stand apart in my mind, though. And I'll do everything I can to cross these finish lines.
Related:
5 Trail Races Perfect For Runners Of All Abilities
7 European Races To Add To Your Bucket List