Kathrine Switzer Finishes The Boston Marathon 50 Years Later
Fifty years after becoming the first female entrant in the Boston Marathon, Kathrine Switzer took on the course in her iconic big number.
Heading out the door? Read this article on the new Outside+ app available now on iOS devices for members! Download the app.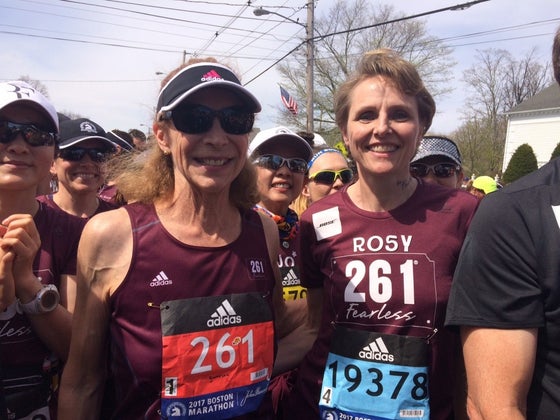 Crossing the finish line in 04:44:31, Kathrine Switzer collected her medal 50 years after her iconic run as the first female entrant of the Boston Marathon. Wearing her original bib number of 261—which was officially retired today—the 70-year-old ran down the same streets that made her famous in 1967.
RELATED: Kathrine Switzer On Her Return To The Boston Marathon
In her first running of the Boston Marathon, race director Jock Semple tried to pull her off course and tear-off her "official bib No. 261" as spectators both on course and at home watching on TV looked on. This was before women were permitted to run the most prestigious marathon in the world.
Switzer, who signed the race application with her initials, K.V. Switzer, is now known as a pioneer for women's running.
She ran alongside members of the 261 Fearless team that supported her all weekend and crossed the finish line into the arms of her husband, Roger Robinson. Switzer created the 261 Fearless organization, a not-for- profit with increasing global reach, to encourage women to take on their challenges while utilizing the sport of running and creating lasting bonds with fellow women around the world.
RELATED: The Fearless Kathrine Switzer
"I can't thank the people on the streets of Boston enough. I am so grateful for being able to run the Boston Marathon 50 years after my first one," said Switzer after the race today. "I'd like to thank the BAA and everyone involved for their amazing support this entire weekend. I'd also like to send special thanks to the members of our 261 Fearless Boston Marathon team who have helped empower women globally through running."
Switzer ended by sharing that though this weekend was about reflecting upon the past and finishing strong today, 261 Fearless is all about the future and the next 50 years of running.