Worst Things About Summer Running (#1 Nails It.)
We love running in the summer—but we also hate it sometimes.
Heading out the door? Read this article on the new Outside+ app available now on iOS devices for members! Download the app.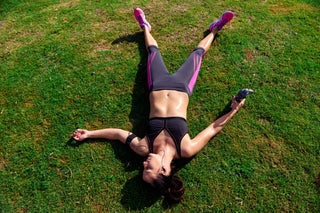 For a lot of us, summer is the best season for running. The weather, the sunshine, the fresh air—something about it just makes the miles a little easier and more enjoyable. But summers also come with a few bummers that can put an occasional damper on your runs. If you plan to work out al fresco in the next couple of months, you'll probably experience some of the best—and worst—things about running in the season of sunshine. Here's the top-10 pros and cons of our favorite middle-of-the-year months:
Best: You can ditch the pants, leggings and tights and head out in just shorts.
Bummer: You have to shave your legs on the regular.
Best: You can go for an evening run before the sun sets.
Bummer: Dusk + summer = mosquitoes. So many mosquitoes.
Related: 9 Reasons Many Runners Look Forward To Summer
Best: Jumping right in the pool after a sweaty run.
Bummer: Trying to peel off your sweaty clothes and then yank a spandex bathing suit over your sweaty body.
Best: The freedom to run in just a sports bra.
Bummer: The epic tan lines that ruin you for strapless dresses.
Best: There's nothing like an intense run on the beach.
Bummer: There's no way to ever get all the sand out of your sneakers.
Best: The sun! Vitamin D, baby.
Bummer: The sun. It's so hotttttttt.
Related: 7 Tips To Drink More Water
Best: So many runners get their miles in outside, making for a really fun community.
Bummer: So many power walkers, cyclists, roller bladers, skateboarders and double-wide strollers get their miles in outside, making for a really crowded sidewalk.
Best: You can keep a pair of sneakers at your desk and go for a run after work or stop off at the park on the way home.
Bummer: You have to resist all the outdoor happy hours your coworkers beg you to attend.
Best: With the extra hours of sunlight, weekends are endless opportunities to run.
Bummer: Barbeques, beach trips, bonfires—weekends are full of tempting opportunities to skip a run.
Best: Summer has the best post-run rewards—an ice cream cone or nice cold beer.
Bummer: Summer has the best post-run rewards—an ice cream cone that melts quickly or nice cold beer that warms way too quickly! (But seriously, just eat and drink faster.)