Who Is Gwen Jorgensen?
Gwen Jorgensen, the wildcard for the 2020 Olympic marathon, has an impressive backstory.
Heading out the door? Read this article on the new Outside+ app available now on iOS devices for members! Download the app.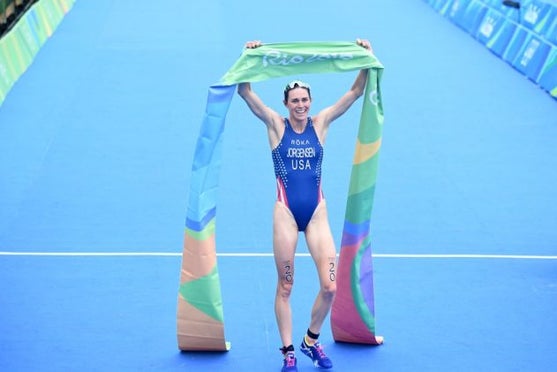 The endurance community was rocked this week when triathlon Olympic gold medalist Gwen Jorgensen announced she was hanging up her swim goggles and bike helmet to pursue a different Olympic gold medal–this time, in the marathon.
Jorgensen's switch is surprising, given that she was all but a lock for a medal in the 2020 Games–in five years of racing triathlon, she was the sport's best, with an unparalleled 17 World Triathlon Series victories, two world championship titles and the first U.S. athlete to win Olympic gold in triathlon.
With this announcement, Jorgensen becomes a wild card for even making the team, much less winning the gold medal she desires. She is, after all, fairly untested at the marathon in one of the best-ever fields of American women. Still, there's a lot about Jorgensen's story that excites us. Here's what you need to know about the newest Olympic marathon hopeful:
She was "discovered" at an accounting office in Wisconsin.
Though Jorgensen was a collegiate swimmer and runner at the University of Wisconsin, she firmly believed her athletic days were behind her after graduation. While working as a tax accountant for Ernst & Young in Milwaukee, Wis., a representative from USA Triathlon contacted her–had she ever considered triathlon?
The future Olympic gold medalist didn't even know how to ride a bike.
At first, Jorgensen was hesitant about becoming a triathlete–though she was a strong swimmer and runner, she didn't know how to ride a bike.
"I was scared to use clipless pedals," Jorgensen said in an interview with ESPN. "I was falling over at every stoplight. I think at least once a week I'd notice a new scratch on this bike that only had about 100 miles on it!"
She's obviously a fast learner.
In her first triathlon in 2010, Jorgensen came in second place. For the next year, she was a fixture in the top 10 of most races she entered. By 2012, she had earned one of three spots on the 2012 Olympic team. This is a similar timeline to what she's facing for the 2020 Tokyo games, so she's already shown she can handle the pressure.
She's willing to tri, tri again.
The 2012 London Olympics was a massive heartbreak for Jorgensen, who placed 38th after a flat tire on the bike derailed her medal ambitions. She spent the next four years declaring her intent to win at the 2016 games, no matter what. In a stark contrast to the London Games, she had a near-perfect race in Rio, outrunning the defending champion Nicola Spirig.
She and her husband are our model for #relationshipgoals.
Her husband, pro cyclist Patrick Lemieux, left his career so Jorgensen could be the world's best in hers. He's her number-one fan, and she often attributes her success to his unflinching support. "Everybody always wishes they had a Pat," Jorgensen said in an interview with NBC Sports. "It's a huge advantage that I have."
She's a new mom.
Most people know her as one of the greatest triathletes of all time, but her favorite title is "Mom." In August, Jorgensen gave birth to her first son, Stanley.
Despite her lofty ambition in the world of 26.2, she's only done one marathon.
Looking for a fun new challenge, Jorgensen entered her first marathon, the TCS New York City Marathon, on a whim. Anyone who takes 14th place in 2:41:01 without much dedicated long-distance training (the Olympic triathlon run is only 6.1 miles) has a lot of potential in our book.
If she hits this goal, she'll make history.
No woman has ever won Olympic gold in two different summer sports. If she achieves her goal of winning gold in the marathon, she'll make history. Is it too far out to try? Maybe. But Jorgensen knows it–and embraces it:
"I've set some pretty crazy goals in the past," she said in an interview with Triathlete magazine. "For me it's just something I've wanted to try since I had the first thoughts about doing it a few years ago. I know I'm going to have to take some big risks, but I really believe I'm capable of doing it."
Related:
Gwen Jorgensen Leaving Triathlon For Marathon
American Women Are Having A Moment