Tracksmith Just Dropped Their First Retail Store In Boston
They are launching Boston Marathon weekend, natch.
Heading out the door? Read this article on the new Outside+ app available now on iOS devices for members! Download the app.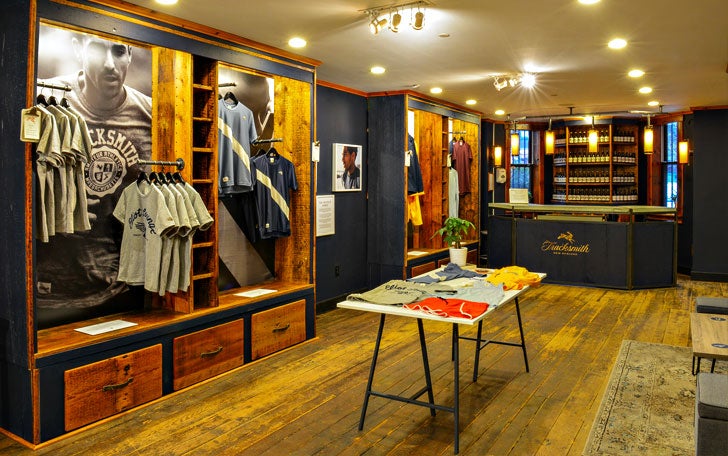 Tracksmith, the running brand that brings you that coveted "BQ jersey" every April, today announced the opening of their first permanent retail space, the Trackhouse, on Newbury Street near the Boston Marathon finish line. The space is designed to be a community hub and haven for runners and will replace their popup shop, which has served as a Boston location for runners in years past.
"We won't be doing a popup this year, since the store is now essentially our permanent 'popup.' But we're actually taking over the same space we used for our first popup space in 2015," says founder and CEO Matt Taylor. "It was still available when we started looking for our new home, so it only seemed fitting to make the move back to where we first dipped our toes into brick-and-mortar."
Alongside the brand's full collection of athletic apparel and accessories, the Trackhouse will feature a runner's lounge, live race streaming, training groups and a library. "We want to create the running store of the future, embodying the energy and zeal of the great hangouts that originally made Boston a world class running city," says Taylor. "Runners are often thought of as solitary athletes pounding out their miles at dawn, but there's a huge community aspect as well, bound by the shared experience of training and racing. With the Trackhouse, we hope to provide a physical and experiential platform for runners to connect and celebrate the world's greatest sport."
Related: Tracksmith's No Days Off Campaign Is What Every Runner Needs
The Trackhouse will offer runners several services including product testing, bag check, a racing library stocked with performance-based literature and free beverages on a regular basis. Runners will also have the opportunity to interface with the brand's product team and to join them for daily runs.
"We want the Trackhouse to be a place to gather and provide a resource for runners in the city—now, if you're in the area and want to run on the Charles you'd have to be a gym member to stash your gear," explains Taylor. "We'll provide spaces for people to store their belongings when they head out for a run. We'll act like a hotel concierge would—tag the bags and store them while you're out running."
Inspired by the late great Eliot Lounge, Boston's iconic runner's bar, the Trackhouse will host social events and parties for the city's runners.
The Tracksmith Trackhouse will open Thursday, April 13th and host a whole bunch of events leading up to Marathon Monday. 
"At our past year's popups, we saw incredible foot traffic and sales over marathon weekend," explains Taylor. "The benefit of our new home on Newbury Street is that it's not only perfectly located for the marathon (you can turn right on Hereford, left on Newbury and find us) but it's also in the heart of the city's best shopping street. We're in good company here alongside young innovative brands like Ministry and Marine Layer and huge legacy brands like Frye and Patagonia."
"After three years in Wellesley at the halfway point of the marathon, it seems only fitting that our next move would be 13 miles down the course," said Taylor. Since the company's launch, they've lived at their headquarters in Wellesley, and everyone is excited to be closer to their customers in Boston!