The Top 10 Workout Songs For July 2018
Run Hundred presents the top 10 workout songs to add to your playlist this July 2018.
Heading out the door? Read this article on the new Outside+ app available now on iOS devices for members! Download the app.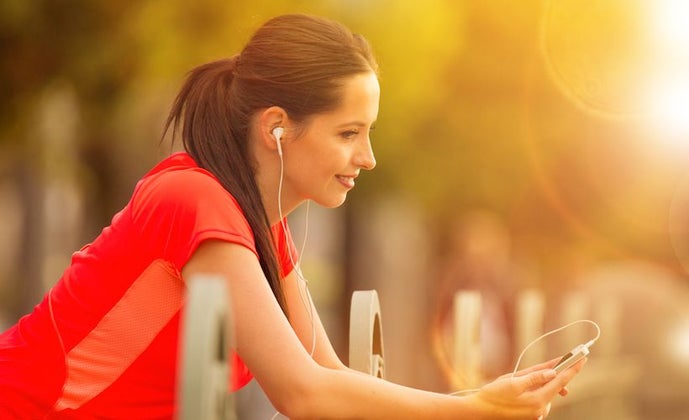 Playlist Additions For July 2018
This month's top workout songs cover more territory than one can cover with a simple summary. So, instead, we'll consider the highlights individually. On the metal front, there's a solo track from The Deftones' Chino Moreno. If you prefer rock that's less caustic and more uptempo, there's a racing tune from Interpol. And, elsewhere on the guitar-driven music front, you'll find country songs from Little Big Town and Florida Georgia Line.
Representing pop from the Top 40 and college radio, you'll find singles from Alessia Cara and Chromeo, respectively. From the club scene, there are tracks from David Guetta, Marshmello and Fatboy Slim. Finally, rounding out the bunch, you'll find Luis Fonsi's follow-up to his crossover smash "Despacito."
However glib it may sound to say this list has something for everyone, it feels warranted in this case. To that end, if you favor a certain genre to score your run, you'll know where to start. And, if you simply crave variety, you can just press play and head out. However you put it to use, here's the full list—according to the votes logged on workout music site Run Hundred.
Chino Moreno – Brief Exchange – 72 BPM
David Guetta – Your Love – 125 BPM
Interpol – The Rover – 198 BPM
Alessia Cara – Growing Pains – 96 BPM
Little Big Town – Summer Fever – 105 BPM
Chromeo – Don't Sleep – 110 BPM
Luis Fonsi – Calypso – 110 BPM
Fatboy Slim – Right Here, Right Now (Friction & Killer Hertz Remix) – 87 BPM
Florida Georgia Line – Simple – 101 BPM
To find more workout songs, folks can check out the free database at Run Hundred. Visitors can browse song selections there by genre, tempo and era to find the music that best fits their particular workout routines.
Related:
Playlist Preview: Summer 2018's Hottest Concert Tours
The Top 10 Workout Songs For June 2018