The Top 10 Running Songs For May 2018
Run Hundred shares its top 10 playlist to kick off May 2018.
Heading out the door? Read this article on the new Outside+ app available now on iOS devices for members! Download the app.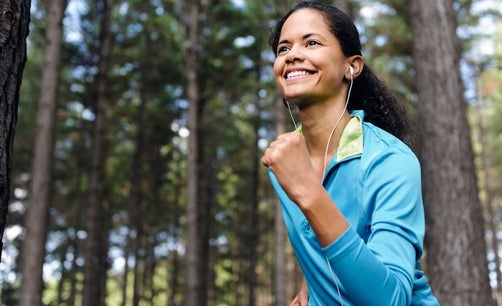 May 2018's Top 10 Playlist
In this month's running music roundup, two genres rise to the top: rap and pop. On the former front, you have new tunes from Drake and Nicki Minaj. On the latter, you have songs from David Guetta and Jason Derulo. Lastly—combining elements from both—there's a four-way collaboration between Lorde, Khalid, Post Malone and SZA.
Though two genres dominate this playlist, it also features a couple of outliers, including a new single from Pearl Jam and Ryan Adams' cover of a Tegan and Sara song. In an unusual occurrence, the most popular workout song this May—Shawn Mendes' "In My Blood"—is also the slowest. In keeping with this upbeat-but-downtempo theme, nearly half the list clocks in around 95 BPM. To that end, you might employ those tunes for warming up and cooling down and use the faster tracks for the main portion of your workout.
In any event, it doesn't matter which portion gets you up and moving—so long as you get up and move. So, consider the picks, add your favorites and go. Here's the full list for May—according to the votes logged on the workout music site Run Hundred.
Lorde, Khalid, Post Malone and SZA – Homemade Dynamite (Remix) – 107 BPM
Jason Derulo – Colors – 120 BPM
Nicki Minaj – Chun-Li – 97 BPM
Drake – Nice for What – 94 BPM
Taylor Swift – Delicate – 95 BPM
Pearl Jam – Can't Deny Me – 120 BPM
Ryan Adams – Back in Your Head – 144 BPM
Kylie Minogue – Dancing – 110 BPM
David Guetta and Sia – Flames – 94 BPM
Shawn Mendes – In My Blood – 70 BPM
To find more workout songs, folks can check out the free database at Run Hundred. Visitors can browse song selections there by genre, tempo and era to find the music that best fits their particular workout routines.
Related:
The Top 10 Songs For April 2018 To Add To Your Workout Playlist
The Best Treadmill Survival Playlist
John Hancock Releases Pro Athletes' Running Playlists On Spotify