This Mom Of Three Has Her Sights Set On The Olympic Trials
Find out how 39-year-old Priscilla Schultz got even faster after the birth of her third child!
Heading out the door? Read this article on the new Outside+ app available now on iOS devices for members! Download the app.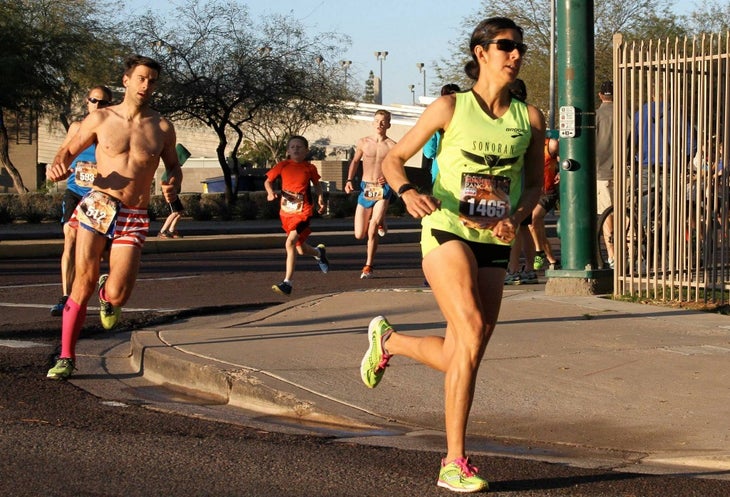 Five years ago, Priscilla Schultz—a former collegiate runner—returned to the roads after the birth of her third child. After crushing her first marathon in 3:02 (a time good enough for the win!), she decided to stick with the 26.2-mile distance. She's now focused on making it to the starting line in Los Angeles for the Olympic Marathon Trials. We caught up with the 39-year-old mom, a member of the Sonoran Distance Project, to see how she balances motherhood with big dreams.
What's your current dream?
To qualify for the 2016 Olympic Marathon Trials by running the California International Marathon in December.
Why do you run?
When I was younger, I ran to be faster. I didn't quite enjoy the training runs but I loved to race. Now, I love going on a training run and enjoying the beauty of the Arizona scenery. It's a soul-soothing, mind-clearing activity. I love solo runs for deep or mindless thinking and I enjoy training runs with running partners for the serious or non-serious talks we have about life. And I still love to race!
What in your life helps you to dream big?
My husband and children are so supportive of my goals for running. They keep me motivated to keep at the high goals.
What's the top tip you have for runners who want to race faster?
Don't ignore all the little things that can keep you healthy such as strides, strength exercise, daily rolling, hydration, healthy food choices and ensuring rest when needed. Continue to do these things in addition to running and eventually you will get faster.
How do you balance your life while concentrating on the Olympic Trials?
My training time is usually early in the morning. Once the day has started it is go time with my three little girls. The days are always very busy but great in that it keeps me from over-thinking training!
What's your go-to race breakfast?
I like a plain bagel with a little jam and a banana a few hours before with a bottle of Nuun.
What's the biggest lesson you've learned as part of the Sonoran Distance Project?
In order for a team to be successful as a whole you must support one another fully. Sonoran Distance Project women do their best to support one another. It's truly inspirational to be surrounded by such great women.