11 Things Only Midwest Runners Understand
The midwest creates some seriously hardcore runners.
Heading out the door? Read this article on the new Outside+ app available now on iOS devices for members! Download the app.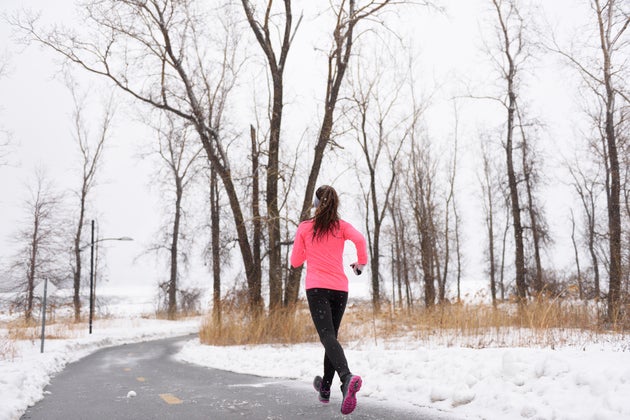 As a born-and-raised Minnesotan and an avid runner, I am all too familiar with the abnormal and extreme weather conditions experienced in the Land of 10,000 Lakes. Most midwest states, such as Minnesota, Wisconsin, Iowa and Michigan, know the struggle of blazing summers, arctic winters and non-existent springs, especially those near the Canadian border. We have about a month of perfect fall weather, but most of our year comprises a 7-month-long winter and summers complete with tornados and hailstorms.
That being said, I love being from the Midwest. However, when I moved to California, where the weather can only be beaten by heaven itself, my friends here were stumped by how Midwesterners could possibly be runners.
"But it SNOWS there. You can't run in SNOW!"
They do have a point. Besides our brief fall, there really is no ideal season for running. So how do we do it? To put it plainly, we suck it up. We brave the elements. The weather is tough, but it makes for tough Midwestern runners. Here are some other things that people from the Midwest probably understand best.
1. While some would consider -5 degrees slightly intimidating for a run, we just know it's time to zip up that snowsuit and lace up those sneakers, which have hopefully been waterproofed. You do what you gotta do.
2. The Midwest running community is so close that even with your ski mask, winter hat, scarf and sunglasses on, fellow neighborhood runners will still know who you are.
3. Everyone carries an inhaler on winter runs, even if they don't have asthma. The air is that cold.
4. People often run with headlights—not because it's nighttime, but because of blizzards.
5. Running also turns to shuffling in the winter months because, instead of what is normally a road, you have one giant sheet of ice. I have seen people run in mountain cleats before. Talk about stability.
6. In the summer, the sky turns slightly green and you hear a tornado siren but keep running—because you remember it's a Wednesday (tornado siren test day). Yeah, you can totally go another 2 miles.
7. Midwest runners get a better workout than most since throughout the run we are doing high kicks, ab twists and stretches just to swat at mosquitos. Those bloodsuckers follow you everywhere!
8. Saran-wrapping icepacks to your body before a run because it is 103 degrees outside. It finally stopped snowing and you haven't seen the sun in 6 months. You are running today. End of story.
9. Coming back after your first springtime run but looking like you did a race for Tough Mudder.
10. When running outside is not an option—because it's hailing the size of baseballs—so you go run at your local mall. Yes, the mall. Not the gym. The mall. The Mall of America is basically Minnesota's racetrack.
11. Freaking out because it's October and you can finally run like a normal person—no snowsuit or saran-wrapped icepack needed. Just kidding, you're going to get 10 inches of snow tomorrow.